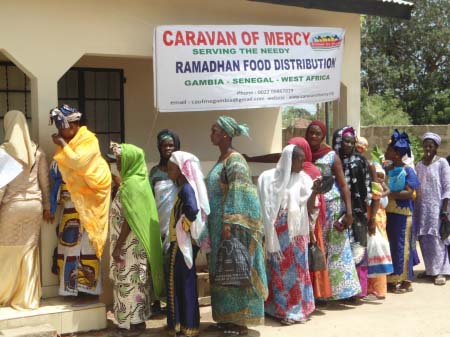 Caravan of Mercy Overseas Coordinator Pa Modou Sillah, who is also coordinating Caravan of Mercy activities in the Republic of Senegal and Guinea Bissau, has stated that his organisation would continue the goodwill gesture for Gambian people in complementing the efforts of the government by giving Ramadan donations to families.
Mr Sillah was speaking in an exclusive interview with our reporter in Brikama Caravan of Mercy Head Office shortly after the Ramadan food items distribution recently.
According to Sillah, Caravan of Mercy, which is registered as an International Non-Governmental Organisation in the country through its partners in the United Kingdom, has donated food items to Gambians as part of their contributions to help the poor and needy.
His NGO, he stated, donated bags of rice, sugar, oil and tins of tomato paste worth D680, 625, covering 948 families in the Lower River Region in the following villages: Nyorojataba, Sankandi, Wudehba, Wurokan, Dumbuto and Kwinella.
He disclosed that every year, they identify a new place to do their Ramadan food distribution and this year it was done in LRR.
Mr Sillah recalled that last year, Caravan of Mercy distributed Ramadan food items in the Central River Region (CRR North) to 700 families and some parts of West Coast Region, where widows, orphans, and needy children benefitted, as well as some Madarasas and Masgids (mosques).
"We're very much grateful to our donors in England, the United Kingdom, who immensely contributed towards this noble course that Caravan of Mercy is doing in the country," he said, describing their partners in England as true believers of Allah.
He said they are praying to Allah the Almighty to continue giving them the strength and blessing to help the poor and needy as it was not easy to devote time and energy doing such an important work around the world as due to the economic crisis everyone is thinking of how to feed his or her own family.
According to Mr Sillah, helping the poor, widows and needy is one of the objectives of his NGO, saying his organisation would continue to support the Gambian populace.
Giving background information on how Caravan of Mercy, a charitable organization, registered in 2006 and has turned into an international NGO in 2012, Mr Sillah said he started it from his own pocket when he was teaching in Bermuda (the UK) through savings from his monthly salary to help students back home (in The Gambia).
According to him, any time he was in the country for vocations, he would visit schools to pay schools fees for few students who were academically capable of receiving sponsorship and making best use of their education.
"Some of my colleagues in Bermuda noticed what I was doing and they also joined by giving me donations to support my work in The Gambia, which we started with 45 students," he said, adding that as at now they have built their own, two Madarasas, in the North Bank Region and Central River Region with more than 1500 students.
As an international NGO, they are also providing safe drinking water for local communities and providing quality education, as well as supporting schools with educational material and giving medical items to hospitals.
Read Other Articles In Article (Archive)