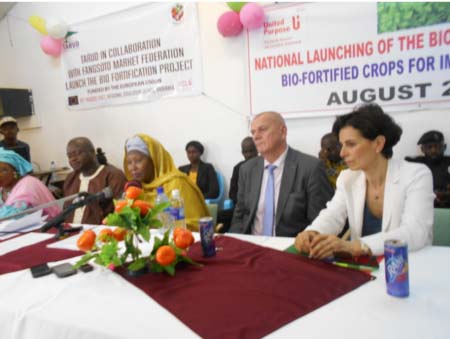 A four-year project to reduce micro nutrition deficiencies of women and children in The Gambia through sustainable and integrated approaches to food fortification was launched in Brikama on Tuesday.

The project funded by the European Union to the tune of 2.6 million euros (equivalent to about D120 million) would be implemented by United Purpose formerly known as Concern Universal.
The project is designed to reduce under-nutrition and poverty, especially among women and children in The Gambia by strengthening sustainable access to and consumption of bio-fortified and resilient high nutrition foods.
The overseer of the Office of the Vice President, Fatoumatta Jallow-Tambajang, who launched the project, said the project was another milestone in the country's difficult route from the clutches of women and child malnutrition to food security.
"It is our belief that ensuring household and national food and nutrition security is the core of all our dreams and will remain the same for future generations," she said.
Madam Jallow-Tambajang, who is the minister of women's affairs, called for "greater transparency" in the implementation of the project.
"This will engender common understanding, ensure a level playing field as well as ease implementation of project activities," she said.
The governor of West Coast Region, Ebrima Mballow, said the project would contribute significantly to the socio-economic well-being of the people of the country.
United Purpose, formerly Concern Universal, had implemented a plethora of projects such as rice development schemes, vegetable production support, climate resilience and a host of other interventions.
Read Other Articles In Article (Archive)