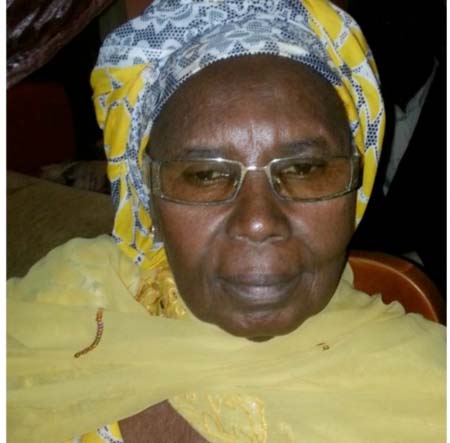 The jailed leader of the opposition United Democratic Party (UDP) has sent a message of direction to senior members of the party to keep up activities to make the party "the greatest once again".
UDP Deputy Secretary General Mariam B. Secka said Lawyer Darboe has directed the other senior members of the party to continue the grassroots mobilisation and recruitment of new members, especially youth.
Darboe is currently serving a three-year jail term together with 18 other senior members of the UDP.
Mrs Secka said the jailed leader has directed that the regional, district and village committees should henceforth be organising weekly meetings in their respective localities to be briefing and updating local members about what is going on.
Addressing a rally in Brikama at the weekend, she said Darboe has further directed that chairpersons, coordinators, 'Yai Kopins', from now on, should be visible in rural localities and regularly updating the executive about what is going on in their respective areas.
The UDP leader is said to have also called on his supporters to be determined and united under the single purpose of "defeating" President Yahya Jammeh.
"He warned that we should not allow ourselves to be distracted," deputy SG Secka said, adding that they were initially busy on the court case of their party executive and other members of the party.
Lawyer Darboe together with 18 of his senior party members were arrested on 16 April 2016 and subsequently tried and sentenced for taking to the street in protest asking for the government to produce Solo Sandeng dead or alive.
Mr Sandeng, a former senior member of UDP, was arrested, together with other members of the UDP, on 14 April 2016 for also taking to the street demanding electoral reforms in order to conduct free and fair elections. Mr Sandeng is said to have subsequently died in custody.
During the three-month trial, the UDP had not been conducting political activities.
"Some people have also used that as an opportunity going around the country telling people that the UDP is dead; that they should abandon the UDP and many other unfounded stories," UDP deputy SG said.
"This has created confusion across the country among our supporters we are told. There is no iota of truth in that," she further explained.
A problem diagnosed
Mrs Secka said the "UDP never lacks crowd at our meetings" but over the years, the big crowd had not been transformed into real votes for the party.
"Our diagnosis of the problem has shown that it is not because UDP does not have a support base; no it's far from that," she said.
"The problem is that many of the young people either don't register or they refuse to go out and vote on polling day."
She pointed out that many Gambians were "misled into thinking that elections will never remove President Yahya Jammeh" from power.
She said others continued to believe that it is a waste of time to register and to vote.
"It is the duty of every one of you to get registered and to effectively participate in the electoral process," deputy SG Secka said. "Remember: your vote is your voice."
Read Other Articles In Article (Archive)