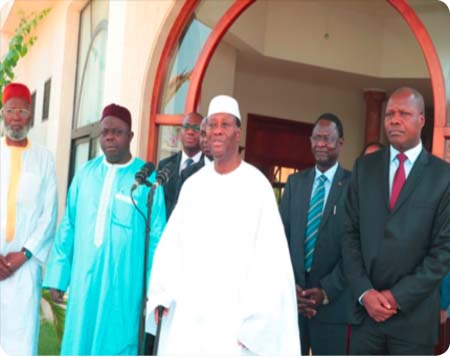 The head of state on Cote d'Ivoire, Alassane Ouattara, who is convalescing after an operation in France on Monday received in audience, at his home in Abidjan, emissaries of President Yahya Jammeh, who delivered a message of prayers for Quattara's 'good health'.
"We are brothers at the level of West Africa; we share the same values. We have, therefore, come on behalf of President Yahya Jammeh to bring a message about prayers for a speedy recovery to the president of the Republic", said the Gambian minister of Foreign Affairs, Dr. Aboubacar Senghore.
Dr. Senghore led the delegation, which included finance and economic affairs minister Kebba Touray, and the consul of The Gambia in Côte d'Ivoire.
"President Ouattara is a pillar in Africa, and to have him in good health is a blessing," Dr. Aboubacar Senghore, declared after the meeting with Quattara, and further announced that the Gambian people and their leader prayed for him.
Alassane Ouattara thanked President Jammeh "for this fraternal gesture". "They (the emissaries) told me about all the prayers that have been made in The Gambia for my speedy recovery. The Government and I appreciate this", he added.
Meanwhile, the heads of state of Togo and Benin, Faure Gnassingbe and Yayi Boni, are expected Tuesday in Abidjan. They will visit after Burkina Faso's Blaise Compaoré who called on Quattara last week, to also give their support to President Ouattara, current chairman of the economic community of West African states, ECOWAS.
Read Other Articles In Article (Archive)