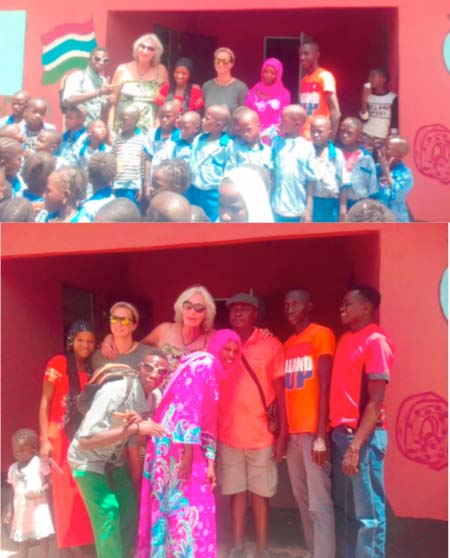 A newly constructed fully fledged (D10M) health centre, containing modern facilities, was inaugurated over the weekend at Giboro-kuta in Kombo East, West Coast Region.

The aim of erecting the health centre was to address the demand of the community of Giboro-kuta, especially pregnant women, allowing them to have easy access to services and reduce long travelling times in search of treatment.
The health centre was constructed by Mustapha Jarju, a native of Giboro-kuta, in partnership with his counterpart philanthropist Antoinette Van De Water and her daughter Rebecca Van de Water who are based in Holland.
They have also built a new nursery school called Barbara Memorial Nursery school. Furthermore they constructed a school and a skills centre in Giboro-kuta village along with other forms of support key to the development of the community of Giboro-kuta.
Speaking at the inaugural ceremony, Mustapha Jarjue, the link coordinator of this foundation, said the project started in 2000.
He said they visited Giboro-Kuta Village and found there was a need to support the community in many areas such as Education and Health.
He said he and his friend in Holland decided to upgrade the health centre, build a nursery school, create a skills training centre for school dropouts in the community to avoid them being forced to get married.
They also built a deaf school to ensure that disabled people have access to education and enjoy other social amenities.
According to Mr Jarjue, the aim was to help the people of the community, especially pregnant women, to avoid traveling long distances to hospital.
He also stated that he and his team deem it fitting to operate a nursery school, and deaf school as there are a lot of people living with disabilities in the village.
"We also offer the students the necessary skills to become more productive in the future and such opportunity including having access to training in skills such as tailoring.
Mr Jarjue also disclosed that the Foundation fenced a two-hectare garden for the women. "Children have also benefitted. They have been provided with learning materials and have been fed at school every day. Uniforms have also been provided and it all comes at no financial cost to parents," he said.
Mr Jarjue mentioned future plans of investing in the village in a bid to eradicating poverty in and outside Giboro-kuta.
Also speaking at the inauguration the headmaster of the school, Momodou Jarjue, expressed appreciation for having the newly constructed nursery school in Giboro-kuta which he said is a plus for the development of the village.
Mr Jarjue urged Gambians, especially those living in the diaspora, to supplement the government's development efforts to, "boost community, our motherland and our future children".
He said considering the contribution of Mustapha Jarjue towards the development of the community of Giboro-Kuta, other patriotic Gambians should endeavour to emulate his goodwill gesture and support the needy community and the country.
The headmaster said: "I seize this opportunity to commend him for his contribution towards nation building along with his counterpart and friend and I assure you that the Barbara Nursery school will be fully taking care of to ensure children have good quality education there."
For her part, Antoinette VD Water, the lead philanthropist based in Holland, said she is delighted to support the community of Giboro-Kuta and, by extension, the people of The Gambia.
She described Gambian people as very hospitable. She said there are plans, in partnership with Mustapha Jarjue and the headmaster, to see how best to provide more support for the community of Giboro-Kuta.
Read Other Articles In Article (Archive)