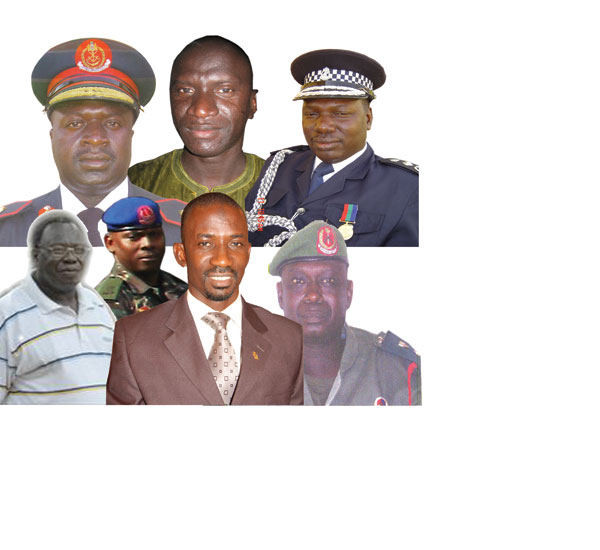 The jailed former Chief of Defense Staff, Lt. General Lang Tombong Tamba, and six other men convicted and sentenced to death by the High Court in Banjul for treason will today 14th March 2011 know their fate, when the Gambia Court of Appeal delivers its judgment in the appeal filed by the convicts.
The date was set by Court of Appeal president Justice Joseph Wowo, assisted by two other judges, Justice Na Ceesay Sallah Wadda and Justice J.B. Kalaile.
All the seven appellants are appealing against the death sentence handed down on them by the high court last July, after the court found them guilty of plotting a coup against the Gambia government.
The other appellants are Brigadier General Omar Bun Mbye, former Director of Operations and Training of the Gambia Armed Forces, Col. Lamin Bo Badjie, former Chief of the National Intelligence Agency, Modou Gaye, former Deputy Inspector General of Police, Gibril Ngorr Secka, former deputy Gambian Ambassador to Guinea Bissau, Lt. Col. Kawsu Camara (alias Bombardier) former Commander of Kanilai Camp and Abdoulie Joof, a businessman.
Readers would recall that they were arraigned at the High Court in Banjul on 19th March 2010. The trial commenced on 22nd March 2010, and lasted for nearly five months.
The indictment stated that the accused persons between January and December 2009 procured arms, ammunition, equipment and mercenaries from Guinea Conakry and other places to stage a coup and overthrow the democratically-elected government of The Gambia.
During the course of proceedings at the high court, the prosecution in order to prove its case called 16 witnesses, including current Chief of Defence Staff Lt. General Masanneh Kinteh, among other military officers, a student, and GSM company officials (Gamcel, Qcell, Comium and Africell), who all tendered voluminous documents of the calls purportedly made by the accused persons, among others.
Following the closure of the prosecution's case, counsel representing the accused persons opted to file a no-case-to-answer submission, which was overruled by Justice Amadi who ruled that the accused persons should open their defence.
Following the completion of the defence testimonies, both the defence counsel and state prosecutor addressed the court.
About the death penalty
According to records, since independence, the death penalty was only carried out once in The Gambia, and this was in 1981, after the abortive coup attempt led by Kukoi Samba Sanyang.
The person executed was Mustapha Danso, a convicted paramilitary officer, for his part in the killings, which occurred during the coup attempt.
However, a few years later, the death penalty was abolished, during the first Republic.
The death penalty was re-introduced during the second Republic, in August 1995, but has never been carried out to date.
Read Other Articles In Article (Archive)