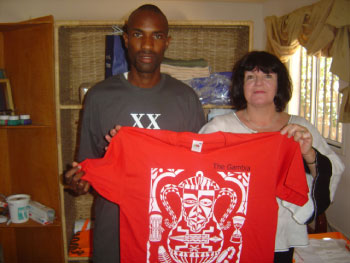 An art work association located at Brufut, on 16th March 2011, took journalists on a conducted tour of their work in The Gambia.
According to board members, the association is a non-political association and had received funding from the Finish Ministry of Foreign Affairs, to change the lives of young people by training them in various artistic works to earn a decent living. 
Speaking to the press, Pirjo Latomaki Jagne, a teacher and the project manager of the association from Finland, revealed that the project is a four-year project targeting youths.
"The Finland Government provides us with resources to teach youths with art skills in The Gambia," she said.
The idea behind the project is to empower youths with skills in order for them to be skillful in their areas of interest.
According to Madam Jagne, they have received funding to build an Art School starting next week, further giving assurances that by next year classes will start. She expressed delight about the start of project.
Also speaking, Alfusainey Gano, the project coordinator, said the association has been operating four years now in different development sectors in The Gambia, especially on youth employment.
Gano an employment activist said: "Since it started, we have trained fifty-two young people in different areas of the creative arts, including broken tiles, painting, drawing, postcards, t-shirts, landscaping, among others.
Kebba Sabally, the brain-child of the association, noted that the project is working to support the government of the Gambia establish an Art school in Sanchaba Sulay Jobe to equip young people with skills. He expressed gratitude to Pirjo for bring her knowledge to The Gambia.
Mr Sabally revealed that the initiative came from him, after realising that every Gambian has a role to play in national development.
For the past ten years, we have been working in The Gambia. We also have helped a project in Kenbuje and have also supported RVTH, amongst others.
"A fair and realistic manner is indeed worthy in development," Mr Sabally told the press. He thanked the Finish Government for the support, adding that it is an opportunity for youths.
Dawda Secka, training officer, spoke of the need to accept ideas from each other, while giving assurances of contributing his quota to national development.
He revealed that Quality Kitchen, Torodo Building, Timbooktoo Bookshop, and Tropical Shop have been very supportive to their work, thus calling on other philanthropists to come on board.
Bailo Jallow, a student, thanked the initiators for giving them the opportunity to learn new skills.
Read Other Articles In Article (Archive)