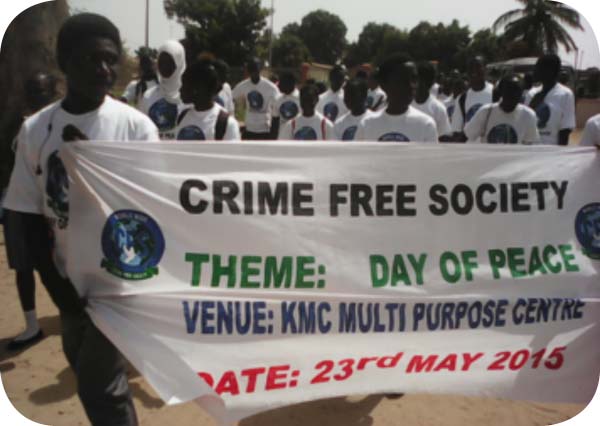 Crime Free Society (CFS), an organization set up purposely to educate young people to avoid the menace of violence and advocate for a peaceful society, was launched on Saturday at the KMC Hall in Kanifing.
The programme, attended by school children from various Junior Secondary Schools, undertook a march-past from Alliance Francais to the KMC hall in Kanifing.
Crime Free Society was set up by young people of The Gambia recently to advocate for peaceful society and to strengthen public trust and foster indivisible relationships between families and the communities plagued by domestic violence, crime, child abuse and torture, while also promoting effective crime reduction through education programmes and sensitization campaigns.
Speaking at the launching, Ismaila Sambou, chairperson of Crime Free Society, said the Society is non-profitable with the purpose of educating young people on the sweltering menace of violence committed in their society and endangering civil existence.
He said their advocating for peaceful society does not mean that peace does not exist in the country.
For peace to exist in the society and to be of immense use it has to be inculcated into the minds of young people, he said, adding that their mission is to strengthen public trust and foster individual relationship within families and communities.
Commissioner Lamin Daffeh, in delivering a statement on illegal migration, said migration, which is the movement of people from their natural habitat to another place, could be domestic or foreign.
He said people migrate for economic, political, health, religious, educational research and refuge reasons as well as to find a better place for themselves.
He added that migrants always start from a point and through migration they pass through other points and finally find a place that becomes their destination.
A person with full requirement hoping to enter another territory is a regular migrant, he said, adding that if a person moves without the necessary requirements then that person is an irregular migrant.
Fallou Sowe from Network against Gender Based Violence, in delivering his statement on the occasion, said GBV is any violence directed at a person simply because that person is male or female.
He said the various categories of GBV include physical, sexual, emotional and psychological as well as economical violence.
All these forms of GBV are caused within the communities, homes and in the societies, he said.
He added that the network against GBV has been working together over the years in trying to eradicate GBV in The Gambia.
He also said that in 2014 the network recorded a number of cases of GBV in The Gambia.
He stated that statistics has shown that at the Edward Francis Small Teaching Hospital 41 cases of GBV were recorded in 2014 of which most of the victims are women and girls.
Read Other Articles In Article (Archive)