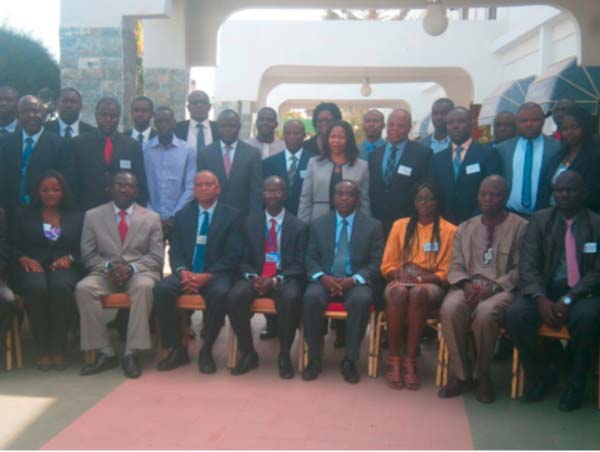 The West African Institute for Financial and Economic Management (WAIFEM) Monday commenced a 12-day regional training course on public financial management, budgeting, planning and performance.
The forum, which brought together participants from the West Africa sub-region and beyond, is currently under way at the Paradise Suites Hotel in Kololi.
Officials of WAIFEM revealed that the aim of the workshop was to enhance participants' understanding on how public budgeting, planning and performance fit into the macroeconomic framework.
Speaking on behalf of the Director General of WAIFEM, Chris Kedze, Director of Macroeconomic Management Department at WAIFEM, thanked the Gambia government and the people for hosting the training course.
He said the institute has successfully executed over five hundred and ten courses since its inception, which has benefited more that 14,100 participants from the sub-region and beyond.
According to him, WAIFEM had establishedcollaborative arrangements with world class training organizations and capacity building institutions to ensure best practices in the delivery of its programmes, and as a Centre of Excellence in capacity-building.
These include, among others, the International Monetary Fund, the World Bank, Commonwealth Secretariat, Debt Relief International, and the United Nations Institute for Training and Research (UNITAR).
Mr Kedze disclosed that WAIFEM would soon commence fee-paying e-learning programme on Diploma and Advanced Diploma in Banking, supervision and public debt management probably a year from now.
It was part of the plan for the institute to commence courses in French with the intention of facilitating communication in the ECOWAS sub-region, he said.
It is known and agreed that a strong public financial management framework serves as a catalyst for economic growth and development, Kedze said.
It also ensures governments, ministries and their agencies raise, manage and spend public resources in an efficient and transparent way with the aim of improving service delivery, he added.
He urged the participants to make use of the training opportunity to deepen their professional networking relationships with their fellow participants as they engage in the course of integration in the sub-region.
In his remarks, Momodou Mboge, senior legal adviser at the Central Bank of The Gambia, described public financial management as the administration of available funds to deliver public services.
"This is a larger discipline of financial management, focused on delivering service as effectively and efficiently as possible to maximize benefits to citizens," he said.
Mr Mboge noted that public financial management includes all components of a country budget process, both upstream including strategic planning, medium term expenditure framework, and annual budgeting,and downstream including revenue management, procurement, control, accounting, reporting, monitoring and evaluation, audits and oversight.
He said government budgets are key areas of public action by which policy objectives are chosen and acted upon, and the necessary resources collected, allocated and spent.
"I am confident that the discussions in this course will enhance your capacity as policymakers to analyze emerging threats, weaknesses and opportunities inherent in public financial management with a view to providing adequate diagnosis and appropriate policy recommendations," he said. 
Read Other Articles In Article (Archive)