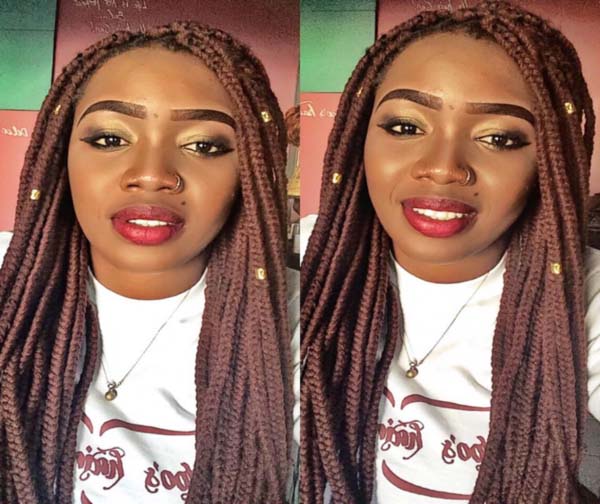 Ya Haddy Jobe, a 23-year-old Gambian, residing in Bijilo and the CEO of her own business, has said that creativity leads to professionalism in whatever one does.
The 23-year-old lady is running full-time a hairdressing salon of her own, which she had a great passion for since childhood, now her first dream has been achieved.
According to her, her mum inspired her into hairdressing and she fell in love with the way she used to do her hair when she was young.
She later started practicing it on her younger's sister and on a little Barbie dolls she had.
"I realised that it had become a passion, and many would complement my efforts."
The young ambitious lady told The Point that hair dressing became a part of her to the point where she would hardly go to a hairdresser.
"My hair became my priority, and I style and fix it to my own satisfaction," she said.
She also said hairdressing is a profession like any other, and that her profession to her is more lucrative because she is working for herself, and at the same time empowering her fellow young girls who are jobless.
"The inspiration of my mother and my inner passion for hairdressing is what has made me successful," Ms Jobe said.
"Though, I've always wanted to be a banker, but then hairdressing is what I'm really good at, and I believe I have a brighter future in it because it's my inner passion and I love doing it myself."
She disclosed that her salon (Ditoo's Hairdo) located at Kanifing South around the mosque just by the highway was opened on 13 March 2016.
She also indicated that she calls and stands for women's empowerment, adding that there is a need for a good relationship between people, especially women who should stand firmly and support one another.
"Who knows how many lives I would change after employing my fellows and inspiring them into the profession; therefore, I call that women's empowerment."
She said no matter what inspires one to be a hairdresser or what you expect from a hairdressing career, there are good and bad things about this path just like any career or occupation.
"There are going to be things you will and won't like about hairdressing."
The good things about being a hairdresser is the people you meet; being a hairdresser is all about serving your clients, and because of this 'you will come in contact with lots of different people every day'.
"The job is challenging and rewarding, as well as gives you the opportunity to show the whole world what you can do and the potential you have to serve them.
"My advice to my young fellow Gambian sisters out there is to let them follow their dreams, and show the world that hairdressing brings colour to the world. Its make you become more artistic and creative," Ms Jobe concluded.
Read Other Articles In Article (Archive)