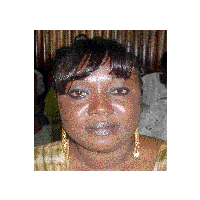 The Banjul Magistrates' Court on Wednesday ordered the National Intelligence Agency to produce the cautionary statement of the 1

st

accused Oley Sey on the next adjourned date.
The order was made following the defence counsel Lamin Camara's application for the court to make an order for the production of the 1staccused cautionary statement she made to the NIA.
Continuing her testimony before Magistrate Lamin George, Oley Sey stated that on 7thAugust 2008 she called a meeting with the community of Abuko including the 2ndaccused Abdou Rahman Bah as she wanted to know what happened between the Community of Abuko and the 2ndaccused Abdou Rahman Bah. She said while on that meeting the KMC Mayor received a call from the SOS for Basic and Secondary Education to go with the 2ndaccused, the Alkalo of Abuko and the headmistress of AbukoLowerBasicSchool to her office. " I was later called to join them," she stated. She said at the Basic and Secondary Education Department, she was told by Madi Jatta that they asked the 2ndaccused to bring the money but he told them that the money was in safe hands. She added that there was a confrontation between the 2ndaccused and those at the meeting, adding that the 2ndaccused later told those at the SOS's office that he was having D80, 000 in hand as he had already used the D20, 000 and that the D400, 000 was given to her by the 1staccused. " I did not agree to the 2ndaccused persons statement. I told them at the meeting that the 2ndaccused gave me only D200, 000 for safe keeping" she added.
Further testifying, Oley Sey told the court that later a personnel from the NIA came in and took the 2ndaccused, the Abuko Alkalo, and the headmistress of AbukoLowerBasicSchool. " I later went to the NIA to clarify myself regarding the statement of the 2ndaccused that he gave me D400, 000, she revealed. " At the NIA I was interviewed orally and I wrote my own statement before I was asked to look for a surety, but I was later detained," she adduced. " I was later released on bail after spending the weekend at the NIA," she adduced. " The statement tendered in court was a summary of the one I wrote myself at the NIA," she added.
It was at that juncture that the defence counsel Lamin Camara applied for the court to order the NIA to produce the statement written by the 1staccused at their office.
The case was adjourned to 6thOctober 2008.
Read Other Articles In Article (Archive)