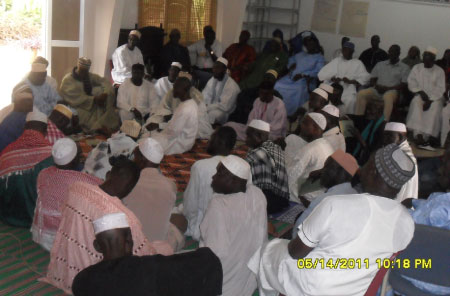 Council of Elders in Banjul on Sunday organised an interfaith religious gathering of Muslims and Christians within the city at the Banjul City Council to pray for President Jammeh in a form of reciting the Quran and reading the Bible for the developments he has registered in the country, especially in the city of Banjul, from 1994 to date.
Speaking at the ceremony, Ousman B. Conateh, alias Fisco Conateh, the chairman Council of Banjul Elders, thanked the elders of Banjul for their turnout to the meeting, saying their move had shown the elders' involvement in matters affecting Banjul. "This is why we invited both the Muslim elders of Banjul and Christians to come and offer prayers for the country and President Jammeh for peace and stability to prevail in the country," O.B. Conateh told the gathering.
Mr Conateh said that in Banjul there are two councils but the one which involves more in politics is the one he is chairing, adding that as Council of Elders in Banjul their main role is to give their support to the government under President Jammeh.
He called on the citizens of Banjul not to leave everything in the hands of the president. "We must make our contribution towards nation-building, and as Council of Elders of Banjul, we would always pray for President Jammeh so that he can develop this country the way he wants," he said.
Bishop William Peter Stephens also prayed for God's guidance and protection during the forthcoming presidential, parliamentary and local government elections in The Gambia and as Muslims and Christians we need to continue living together in peace and harmony.
"It is only peace and stability that can bring development to a country; without the two it would be difficult to achieve development in any country," he said while praying for the elections ahead be conducted in an atmosphere of peace and stability. 
The prayer meetings were attended by the three National Assembly Members of Banjul and the Mayor of BCC Samba Faal.
Mayor Faal described O.B. Conateh as a role model who is committed to the welfare of Banjul As an elderly chairman, Mayor Faal continued, he would guide them to make the work of President Jammeh easy.
Other speakers on the occasion included Alhagie Abou Wadda, Imam Pap Njie, Alhagie Conteh and Pa Hally Ceesay all of whom called on the citizens of Banjul to unite and have concerns for their city.
The trio said the people of Banjul will continue to support President Jammeh "for the developments" he is registering in The Gambia.
The executive members are Chairman Alhagie O.B. Conateh, 1st Vice President Alhagie Mbye Chaw, 2nd Vice President Aji Betti Saine, Secretary General Alhagie Pa Hally Ceesay, Assistant Secretary General, Alhagie Momarr Jeng and PRO Mrs Katty Goswel. They are being assisted by nine other members, and the entire membership stands at eighty.
Read Other Articles In Article (Archive)