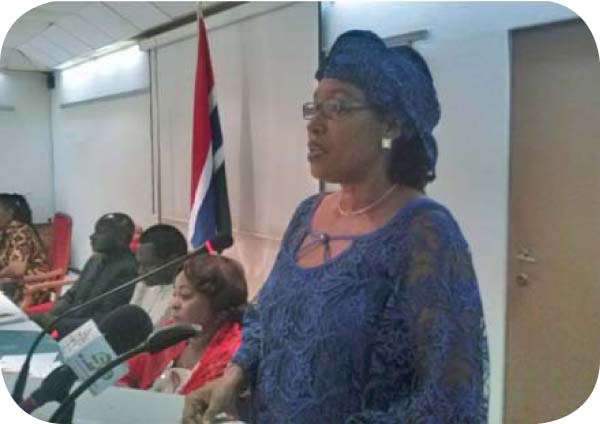 The Gambian head of state in a demonstration of strong belief in Allah, Compassion and Magnanimity has exercised his Prerogative of Mercy by granting amnesty to over 300 prisoners, who were convicted of crimes ranging from treason, concealment of treason, economic crimes, abuse of office, robbery, drug trafficking and murder.
Those released included prisoners who were on death row or serving life sentences, with many others on long jail terms.
The beneficiaries are former top police and military brass, senior government officials, businessmen, among others and non-Gambians as well, which is already known to many of you as some of you have received your released countrymen.
Part of the general amnesty was granted in observance of the holy month of Ramadan, and the other part in celebration of the 21st anniversary of the July 22 Revolution. This, indeed, is unprecedented! 
One would wonder that why are we still talking about this prerogative of mercy, because it has been broadcast.
We at the Ministry of Foreign Affairs have shared it with the diplomatic community, both here in The Gambia and elsewhere.
We are talking about this for different reasons – One, it is unprecedented. As I said the other day at July 22nd Square, we do hear of prerogative of mercy happening in all countries, annually.
But, let us face it, it happens and it only affects a few prisoners with very minor offenses. Never have we ever heard of an amnesty that covers over 300 prisoners. So we will talk about it; we will talk about it, because it has brought a new dispensation in our political landscape; we will talk about it because it is Godly. As believers in Allah (SWT) as Christians and Muslims, we believe in forgiveness because Allah has asked us to forgive one another.
We will talk about it because it has also brought about a new page in our history and relationship. We will talk about it because it is such a goodwill gesture to our development partners as well, because
releasing non-Gambians, who have committed some major crimes, is worth noting.
So we have many reasons to talk about it and, as I said earlier, I believe very strongly as our international and development partners, we must have a forum like this to talk about it.
I'm so appreciative and grateful that all of you have taken time of your very busy schedules to join the Ministry of Foreign Affairs to talk about this.
And, more importantly today, what we would like to hear is from the respective ambassadors who have received prisoners that have been released.
We would like to hear how they feel about this? What they think about it? And the way forward.
And, as I said, this is a new page; the President has said this is a new page. This is a new dispensation and we want to take advantage of this, and move forward this reconciliation and this is about development as well.
As you rightly know, there has been a lot of talk about human rights; about democracy. But I say whatelse can we talk about human rights; if someone who has been convicted by the law; and this is a President, as all Presidents have executive power and, at least, is given that power to keep them as long as he wants or to do what the law has said, and he decides to forgive. I think that is a good demonstration of respecting human rights and loving humanity.
Another hallmark of the amnesty is that all Gambians granted asylum in other countries, for whatever reason, have been pardoned and are free to return home and join the development process of this country.
And at this juncture, I would like to seize this opportunity to thank all those who recently spoke on Gambia Radio and Television Services through Skype. We have a good number of Gambians who spoke on GRTS via Skype expressing their appreciation, and also committing themselves to
come back and join the development process.
I do want to thank them and also other Gambians that have welcomed this goodwill gesture and
look forward to receiving them and working together, either here on this soil or elsewhere.
You can be abroad and still contribute immensely to the development of your country; so we also want to thank them.
The amnesty, therefore, can be characterised as a proof of President Jammeh's statesmanship; and a man who loves peace and a man who has decided to bring all together for the development process.
Now, as I said, the purpose of this meeting is for us to exchange views and thoughts and to remind each other that this is a new dispensation and, as development partners, we must seize this opportunity to forward the development of this country and also our bilateral partnership and
move forward.
Occasions like this, it is important to speak what is on your mind since occasions like this are rare.
Let me take the opportunity to talk a little bit about the human rights issue that may have been said or mentioned. I just want to bring back our attention to about 20 years ago. Let's look at all the development that has taken place in this country, which for me I attribute to human rights.
Having access to education, which is so critical in development, is human rights. And today, we are proud to say we have more girls than ever before; we have more girls enrolling in school than boys; that is a big achievement. And we can also say that for girls to complete their education in the past has been difficult, for a lot of reasons, and today because of achievements in education, girls are completing their education.
Let's look at access to health; health is also a human right. We have hospitals being built all over this country up to the furthest point, and affordable as well. This is a right.
Let's also look at women's empowerment. We cannot overlook women's empowerment. When we talk about women's empowerment, we are not just talking about the urban area; we are also talking about the rural area. We have village heads that are women; that is women's rights. We are giving women voices.
Let's look at the National Assembly as well. We have women elected and nominated for National Assembly seats. That is a woman elected for National Assembly seat sitting right over there. We would not have thought that a long time ago. So we have a lot to celebrate.
And when we talk about democracy and human rights, let's also remember that it is a growing democracy all over. There is no country that has it all perfect. And I always like to pick on the US, because it is the leading country in the world.
Ambassador, with your permission, let me just say, for example, there is so much talk about police brutality. So it is not just perfect, maybe on one side it is OK, but on the other
side there are complains about brutality.
So it is a growing democracy, and we have to respect that. We also have to respect that our
democratic dispensation is within our value system; our cultural norms; our traditional norms; our religious norms. So it cannot be the same, no way.
Let's take Libya, for example; the world had tried, even with African countries supporting the Western world to bring about democracy in Libya. But what do we have in Libya today? Because it was not the right time; so it is a growing process. So we have to respect that.
We have to recognise achievements. When something good is done, we have to pat the person on the back for that achievement; we have to celebrate so that more can come on our path, since it is a process.
I believe a lot of good things are happening. A university has never been in The Gambia before; now we have a university. And scholarships abound irrespective of your tribe, religion or political affiliation; you get access to a scholarship. All of these things are good things.
We definitely want to partner, as we have always done, with the international community to build our democratic dispensation; to build our development process; and we do look forward to working with all of you, as this country has now turned a new page.
Thank you very much again for coming.
Read Other Articles In Article (Archive)