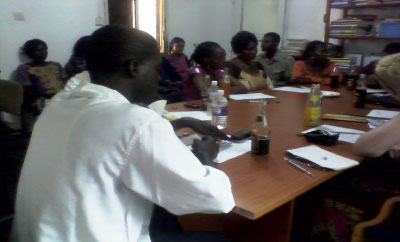 Adult literacy and numeracy skills project under the auspices of Conscience International, a local NGO operating in The Gambia, recently held its 3rd Stakeholders Meeting on adult functional literacy and skills.
The project, according to officials, is a pilot project operating in Kanifing Municipal Council and West Coast Region of Latrikunda German, Madiana and Bunklin, funded by the British High Commission and executed by Conscience International, a local NGO operating in The Gambia.
Speaking at the meeting held at Conscience International (CI) main office in Fajara, Shaka Ceesay, the Project Coordinator, who doubles as the Executive Director of Conscience International said the project is a 3-month pilot project that ran from January to March 2013, with funding from the British High Commission.
He said the project is intervening in three communities: Latrikunda German, Madiana and Bunklin, all within KMC and WCR and that it has 178 adult learners, mainly women who are either dropouts or have never been to school.
Stating that the purpose of the programme was mainly designed for people who have never been opportune to go to school, he said the programme has also accommodated school dropouts at lower grades to upscale them.
Mr. Ceesay further stated that efforts are being made for the continuation of the project for the interest of the women. He then added that, in the event efforts have proven futile students are urged to come up with fund-raising strategies to support the continuity of the programme for the betterment of the participating students.
The meeting also heard testimonies from some participating students on their experiences, namely Mrs. Lena Mendy, a student of Bunklin village and Suwa Suwareh from Madian State.
Some of the issues that emanated from open discussions were inadequate stationery, furniture and a suitable syllabus for students.
Ms. Phyllis Machuka, the Finance and Administrative Officer at CI said in the previous stakeholders' meetings issues of time constraints leading to unpunctuality of students were mainstreamed in the top agendas of the meeting. "Impacting knowledge to someone is not an easy task but their lecturers have been working effectively to ensure that all what they required during the three-month course is made available by giving them their utmost best in terms of quality education," she added.
Mrs. Mari Jatta said the project has positively impacted on the lives of the students, while calling on the British High Commission to continue and expand the project into communities in need.
She hailed Conscience International for its foresight in supporting the illiterate women in acquiring knowledge and skills for a meaningful life and to become self-reliant.
She said Conscience International is complementing government's efforts at providing marketable skills for Gambian youth, thus empowering them to become self-reliant.
Read Other Articles In Article (Archive)