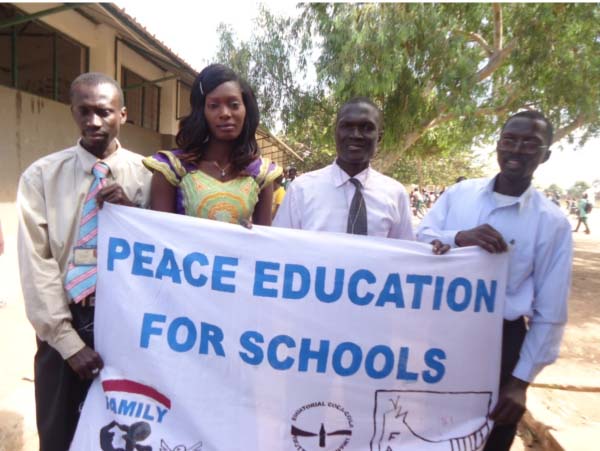 Family Gambia Peace Education Foundation, Pre-peace Education Thursday held a symposium at Old Yundum Lower Basic School.
In his welcome remarks, Jerreh Joof, headmaster of the school, said the day marks an event of the school and other schools in the cluster.
He said peace is the cornerstone of development and peace could start and end at home, but also could be more nurtured in the formal system, such as the school classroom.
He expressed appreciation for the initiative, adding that the programme should be extended to other schools, and challenged the pupils to be disciplined and law-abiding students.
Ousman Fofana, national peace desk officer, highlighted the purpose of the symposium, as to listen to the children and pupils of Old Yundum school, and what they learnt during the pre-peace education lectures.
Peace education is necessary in The Gambia's school system, and the symposium was to sensitize schools in region 2, as well acquaint regional education officers, headmasters, teachers, parents, students, alkalolu and the public on the ongoing peace education lectures at the school.
It was also meant to strengthen peaceful co-existence in the school among students, teachers, parents, community members, as well as the nation as a whole, he said.
Simon P. Mendy, family Gambia national supervisor, explained briefly the background of the foundation, which was established in 2009.
Family Gambia is a sister NGO of Family Liberia and Sierra Leone, and Family Gambia collaborates with Peace Education Foundation in Miami, Florida, USA.
Family Gambia works with the community, the general public and schools by helping children and their parents learn the attitude and skills of peace-building through leaflets, peace workshops, and peace lectures in schools, he added.
They have presented the PEF peace Education syllabus to Ministry of Basic and Secondary Education for review by the curriculum section, hoping that one-day peace education would be integrated into the Gambian school system.
Family Gambia also runs a children's welfare programme that caters for the computer literacy needs of students, teachers and school dropouts in the community.
Read Other Articles In Article (Archive)