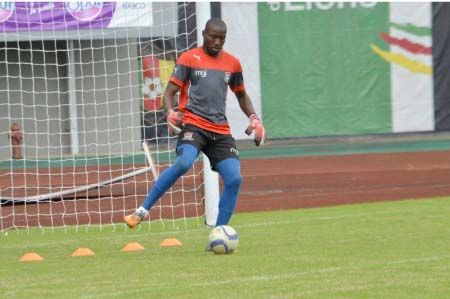 Asc de Linguere international goalkeeper Modou Jobe is confident that the Scorpions of the Gambia will qualify to the finals of the 32nd edition of Orange Caf African cup of nations scheduled to take place in Cameroon in 2019.

The former U-17 youngster, who has won a regular first team place with the team ahead of fellow goalkeepers Alagie Nyabally, and Baboucarr Gaye, is highly impressed with Scorpions' recent performances.
However, he expressed confidence that this year could mark the beginning of historic accomplishment in Gambian football as the team continues their search for African nations and world cups finals.
The Scorpions on Tuesday, March 21, 2017, gathered in the North African nation of Morocco, where they continued preparations for the continental tournament qualifier match against Benin in June.
The rejuvenated Scorpions with indisputable talents played a friendly game away to Morocco, in which they were beaten 2-1 against their African counterpart who introduced a team made up of local-based players (CHAN).
It was a game not many expected the Scorpions to lose considering the difference in qualities between them and the Moroccans but the players failed to produce the desired results, amidst angry reactions from the fans, who are becoming increasingly frustrated by Scorpions lack of success. They said they've "waited for too long to see the team participate in the Africa Nations Cup and possibly the World Cup."
But it appears that the players are now listening to the concerns of the supporters and responded with a deserved win against Central Africa Republic, beating them 2-1, and reviving Gambia's hopes ahead of their opening qualifier game against Benin in June.
Speaking on Gambia's chances of securing qualifications, Jobe, said: "I am very confident of our chances because we have a good team capable to go through. We will continue to fight to be the best like we always try to do whenever we participate in the qualifiers."
The former Flamenis star goalie added: "We are very much determined and prepared to fight harder to achieve nations cup qualifications for Gambian people who are desperately waiting for history to be made."
Jobe has who won two league cups and one FA Cup title during his career with Real de Banjul marred by spectacular goalkeeping display.
Jobe, who started at goal and was outstanding when the Scorpions beat Central Africa Republic 2-1 in their final preparatory international match, will undoubtedly go down in history as one of the greatest gloves men in Real de Banjul history.
The former Armed Forces star Jobe, also known as Toldo, won a league title with the Khaki boys Armed Forces during the 2009/10 GFF league.
He later went on to play in the Tunisian top tier league but his stint in the North African nation came to a premature end when the Tunisian FA introduced a system that prevented foreign goalkeepers further participation in that league.
He returned to Gambia and continued competing in the GFF top flight league before proceeding to the neighboring Senegal, where he signed a semi-professional contract with Niary Tally, in the Senegalese first division.
He led them to the coup de Senegal title in his final game at the club prior to joining current club Asc de Linguere, which also competes in the Senegalese top flight football league.
With many national caps under his belt, Toldo is one of the best known goalkeepers in the country.
Read Other Articles In Article (Archive)