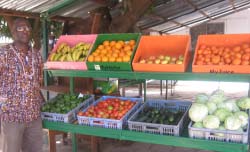 Concern Universal through its Gambia is Good (GiG) initiative is providing a window of marketing opportunities for local farmers.
Banky Njie, general manager of GiG, said the project, which started in 2004, was initiated to link poor Gambian farmers to the lucrative tourist industry.
"Set up by Concern Universal The Gambia and Haygrove the UK, GiG seeks to improve the livelihood of the poor local farmers; getting the poor and marginalized out of poverty," he said.
In an exclusive interview with The Point recently at his office in Fajara, Mr Njie said he have realised that subsistence farmers were suffering from low yield, poor quality of produce thus given them low income.
GIG has a mobile storage facility and team that collects and buys produce from local farmers, mainly in North Bank Region and West Coast Region. "We train farmers on pest control, nursery management, and market skills to improve the quality of their produce," he said.
Mr Njie says they deal directly with over a thousand farmers 90% of whom are women, thus the project has indirect impact on lives of five thousand families.
"Our mission is to harness the potential in The Gambia to foster development through sustainable business," he said.
From 2006 to date, GIG has paid over seven million dalasis to local Gambian fruits and vegetable producers.
Farmers that work with GIG claim that as a result of the GIG service to them their lives are improving, assisted greatly by their opening of bank accounts and possessing of mobile phones. "Before, a lot of produce used to be left wasted but with our clients the trend is changing," he say.
"In Western Region, one farmer told me that within three months she earned D25,000.00 as net profit from the tomatoes she sold to us," he said. "We pay cash at the farm gate at a fair price. We buy sweet potatoes at D40 per kilo but when it is scarce we buy it at D100 per kilo."
The GIG also has extension workers (production managers) in the communities who give farmers advice. They sign contracts with producers and guarantee them of market and income.
The GIG also sells their produce to hotels, restaurants and at their retail outlets. It has the first and only online shop www.gigorder.com where people can buy produce from them.
With its project linkages, Concern Universal seeks to cover the entire country either directly or indirectly.
In The Gambia, growers follow the conventions of subsistence farming, using traditional methods to farm traditional crops. The typical result is poor yields, poor quality and seasonal flooding of the market, with growers often completely unable to sell their produce.
Mr Njie explained: "Concern Universal joins forces with the UK's leading organic fruit producer, Haygrove, and create Gambia is Good (GiG), a pro-poor fresh produce marketing company. By servicing hotels, restaurants and supermarkets directly, GiG has been able to get a firm grip on their needs, and translate these into detailed production plans for growers. Hoteliers, long frustrated by inconsistent supplies, have welcomed the initiative."
He said that Concern Universal's donor-funded horticultural training programmes and local partners have allowed GiG to mobilise nearly a thousand farmers, and replace over-produced produce with in-demand vegetables like courgettes, iceberg lettuce and broccoli - with retail prices as much as 10 times higher.
Thanks to the GiG initiative, women in the most rural communities, where they had previously virtually no cash income, "are now saving in banks and also holding mobile phones".
Read Other Articles In Article (Archive)