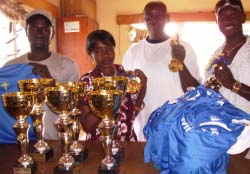 Serrekunda East Sports Development Organisation (SESDO) and Abuko Female Football team on Saturday benefited from football materials from Abdoulie Mbye, a Gambian based in Sweden, who is currently in the country.
The donated items included six trophies, 30 footballs, 60 medals and sets of jerseys.
Abuko Female Football Team received 15 footballs and a set of jerseys whilst Serrekunda East Sports Development Organisation received six trophies, 15 footballs, 60 medals, and sets of jerseys.
Speaking at the presentation, Abdoulie Mbye, the donor, said the initiative was part of his efforts at helping in the development of sports in The Gambia, particular at the grassroots.
Mbye, who spoke of his readiness to continue to support Gambian sport, said he brought over 150 jerseys but stated that "some of the jerseys were stolen at the Gambia Ports Authority".
Mustapha Kebbeh, president of SESDO, thanked Abdoulie Mbye for his kind gesture.
Kebbeh used the occasion to urge other Gambians in the diaspora to emulate Abdoulie Mbye, in the country's quest to see the development and promotion of sport, especially sport at the grassroots level.
He described the gesture as "big" and means a lot in the organisation's strive to develop grassroots football, adding that it would help the beneficiaries a lot to achieve their objectives.
Alagie Nyassi, secretary general of SESDO, said he met Abdoulie Mbye last year and told him of some of their constraints.
"It is against this backdrop that Mr Mbye came up with this initiative and has expressed his readiness to continue to support sports in the country," Nyassi said, assuring the donor that the items "will be put into good use".
Read Other Articles In Article (Archive)