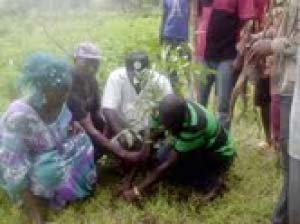 The Community of Jakoi Sibirik in Foni Bintang Karanai, in collaboration with the department of forestry, over the weekend planted over 2,000 varieties of trees in their community forest as part of responding positively to the President calls for every Gambian to plant at least a tree with the aim of planting one million trees.
Speaking during the exercise, the chairman of the village development committee, Musa Gibba, said the exercise was funded by the Global Environmental Facility (GEF) project under the Small Grant Programme of UNDP, which aimed at restoring the forest and the environment.
He urged people to plant more trees to rehabilitate the lost forest cover and advised them to desist from the indiscriminate exploitation of the forest resources.
The National Assembly Member for Foni Bintang Karanai, Ebrima Solo Jammeh, said the move was a step in the right direction, adding that the environment and forest have been completely exploited and little is done by the people to replenish it.
He stressed the need to protect the forest cover for future generation, while calling on other communities to emulate Jakoi Sibirik initiative so as to reduce the negative impacts of environmental degradation.
The Chairman of Brikama Area Council, Bakary Saibo Sanneh, said forest is key in the development of the nation.
According to him, a lot of forests have been deforested in the country and that if nothing is done it would lead to low rainfall and low crop production.
For his part, a senior revenue collector at the regional forest office in West Coast Region, Babucarr Badjie, noted that the Government of The Gambia under President Jammeh has created the enabling environment and given the people sound forest policies to manage and control their forest and environment.
He thanked the people of Jakoi Sibirik for taking the lead in the management and control of their community forest and the environment.
Other speakers on the occasion were the VDC secretary Lamin Sanneh, and Paul Habib Sanyang of Jululu Casamance, who both expressed delight to be associated with the exercise they described a noble course. 
Read Other Articles In Article (Archive)