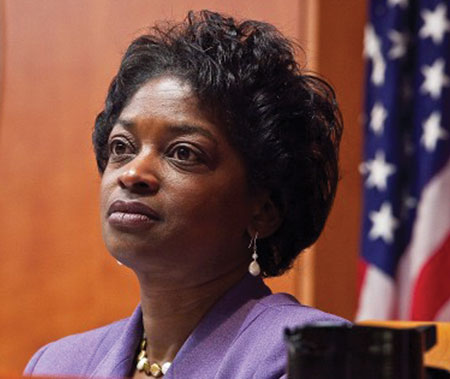 Commissioner Mignon Clyburn of the Federal Communication Commission in the United States of America (US FCC) has described communication as the backbone of the United States economy.
Commissioner Clyburn was in Banjul for a day-long visit accompanied by Federal Communication International Bureau Chief Mindel De La Torres, courtesy of the US Embassy in Banjul.
He was speaking on Monday during a lecture she delivered at the American Corner along Kairaba Avenue.
According to Commissioner Clyburn, communication has impacted positively on the socio-economic advancement of America since the FCC was established by the Communications Act of 1934 pointing out that the FCC is an independent United States government agency.
Madam Clyburn, who also served as the representative of South Carolina's sixth district on the Public Service Commission of South Carolina, noted that communication is increasingly demanding, and that it continues to shape the minds of people by connecting the world.
"Because of communication, it is easy for people of different backgrounds and cultures to meet and exchange valuable ideas. The role communication plays cannot be under-estimated." Commissioner Clyburn told her audience, noting that the United States uses the broad band system of communication, which she described as the most effective way of communication.
Asked, by a member of the audience at the lecture, what the US FCC does in order to protect the security of the system from outside intrusion, Clyburn said there are counter proactive measures in dealing with certain issues. Systems, she added, are protected from foreign intrusion.
Madam Clyburn, who also spent 14 years as publisher and general manager of the Coastal Times, a Charleston-based weekly newspaper that focuses primarily on issues affecting the African American community, noted that there cannot be good business in any way without the use of communication.
"Communication ensures that people are educated, entertained, empowered and informed on the way that people live. The power of IT cannot be overemphasised, and it has the power to change the world in which people live, both positively and negatively," Ms Clyburn added.
Quizzed by our reporter in a post-lecture interview on the impact of communication's contribution towards the advancement of the US economy, Clyburn said it has a positive impact on the people of America, as it educates and empowers them.
Meanwhile, she explained that the FCC is an independent agency, comprising of five commissioners - two republicans and three democrats.
FCC International Bureau Chief Mindel De La Torre also spoke at the lecture, which was graced by the acting head of the US diplomatic mission in the Gambia Cindy Gregg, staff of the US Embassy, as well as officials of IT Network Society of the Gambia and the media.
The lecture, which included a question-and-answer session, was chaired by Zachary Bailey, political and economic officer at the US Embassy in Banjul.
Read Other Articles In Article (Archive)