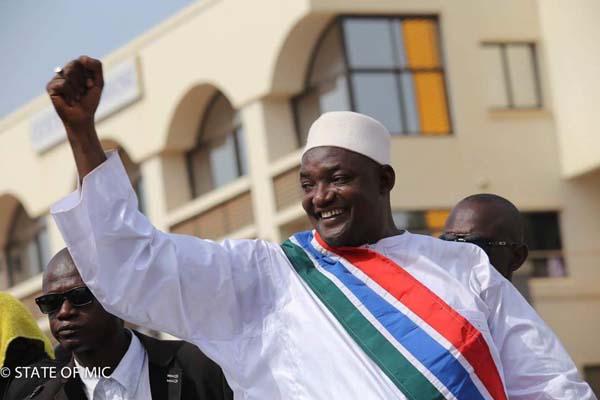 Flag-bearer of the coalition of parties, Adama Barrow, has told the people of Panchang in Central River Region that the coalition is out to save Gambians from 'drowning in hardship', just as how God used Noah in the holy books to save his people from the great flood in those times through an ark called "Noah's Ark".

Speaking metaphorically to the people of CRR and indeed to all Gambians, Barrow said: "We are here as the Noah's Ark to save you from being drowned, and with us you are safe and we can bring you to shore safely if you are willing to listen to us and join our boat. But if you want to be drowned and eaten by the ocean creatures, then don't join us. With our boat, we will give you full assurance that you will be saved 100 percent from drowning."
The Minority Leader and National Assembly Member for Niamina Dankunku , Hon. Samba Jallow, also told the people of Panchang that if they really want to end their "suffering and ordeal" then, this year, their prayers will be answered if they vote for the coalition.
He stated that expensive cars and monies were being given to non-Gambians, whilst Gambians are wallowing in poverty and starving to death in unbearable conditions.
"People are in prison, many for no just cause, and Gambians still sit and watch that continue, because we seem not to have a way out, but now the time has come to use your ballots and change the situation, because your votes are more powerful than all their guns. Let's use those votes and bring The Gambia from darkness to light, and by voting for the coalition you will never say, 'had I known'."
Dr Isatou Touray, who described Adama Barrow as a Gambian, who together with his coalition members has sacrificed to serve the people of The Gambia and humanity in humility, progress and development, said the people of The Gambia should vote for the coalition to end their 22 years of "suffering and injustice".
She said the "suffering and injustice" Gambians have undergone is enough, as it has reached the saturation point where they could not take any more pain and suffering.
"I'm appealing to you, especially the women and youths, who are most vulnerable, to please come out in your large numbers and vote for the coalition, come December 1 to salvage our country, because this country belongs to all of us and it is our responsibility and right to take it from the wrong hands, and make it a better place for everyone and generations to come."
Read Other Articles In Article (Archive)