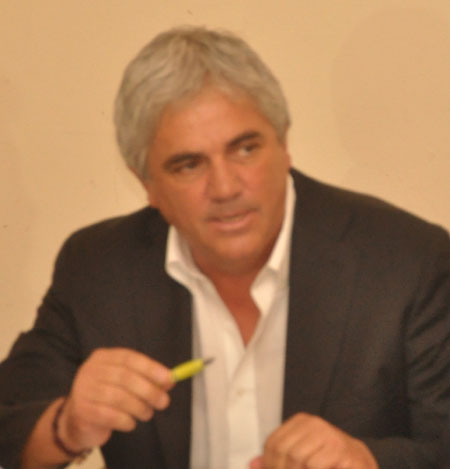 The head coach of the senior national team the Scorpions, Luciano Mancini, on Wednesday briefed the press at a press conference held at the Seaview Garden Hotel on the eagerly awaited international game between The Gambia and Morocco.
In his remarks, the coach revealed that he believes in Peter Bonu Johnson, the management, the senior team as well as the junior team, noting that they are working so hard towards the nation's goal, with determination.
The little problem is on the late arrival of the boys for the match but they are however working over it, Mancini said, adding that he believes in the boys and the most significant thing is to beat Morocco. They would do all their best to emerge victorious over the Moroccans.
Mancini, who formerly led Italian second division side Grosseto, was appointed as The Gambia's assistant coach in April before replacing now former head coach Peter Bonu Johnson.
He added that with the determination of the boys, they will surely raise the flag of The Gambia high.
Asked about his previous appointment before taking up the Scorpions, he said he had worked with the Italian federation regional union in which they won nineteen regions in Italy to capture the trophy at the end of the day.
Mancini said the Scorpions would do well in the game against Morocco, Tanzania and Algeria, which are due to be held in the same month.
Asked about the language barrier he is faced in the Scorpions camp, he said that despite the language, they are working together effectively as they are able to understand each other well.
He said he is paying great attention on the boys and that they are training both tactically and technically, noting that all Gambians are hungry for victory, which is theirs.
He however promised that the boys will respond positively and "it is significant for them to concentrate".
For his part, assistant coach Peter Johnson, despite his demotion, said the most important thing is victory, which everybody is hoping for.
He also said he has no hard feeling about the decision taken by the Ministry to relegate him for coach Mancini. 
The Gambia is believed to be in a critical condition, which is how to emerge victorious and be on top of all other teams in their group. This means they have a great deal ahead of them in rescuing The Gambia, Coach Bono Johnson said, adding that the Moroccan team is due in Banjul on Thursday.
Read Other Articles In Article (Archive)