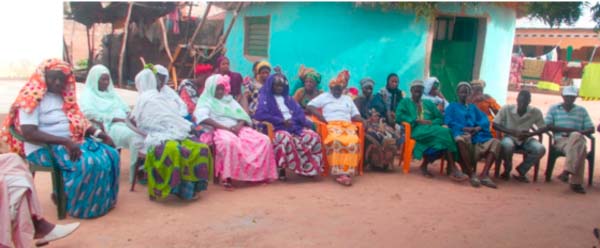 (Monday October 10, 2016 Issue)

The National Council for Civic Education (NCCE) has taken its civic and voter education sensitization exercise to Central River Region (CRR) South, where 20 communities are currently being sensitised on their rights and responsibilities.

The NCCE is an independent non-partisan council, created under the constitution, to cultivate an environment of democratic continuity in The Gambia that will enable all citizens to fully participate in the governance process of the country, through the promotion of political and civic consciousness and the promotion of rights and freedoms of all citizens in accordance with the constitution of The Gambia and other regional and international human rights instruments to which the Gambia is a signatory.
The sensitization exercise, being carried out to educate citizens on their rights and responsibilities as electorate, and the importance of their active participation in politics, kicked off on Monday 3 October 2016.
It is being conducted in the following communities: Samba Tacko, Librass, Dobong Kunda, Sukurr Kunda, Sankulay Kunda, Faraba, Boiram, Dasilami, Kerewan Demba, Kudang, Sotokoi, Mamutfana, Pinai Mandinka, Sambang Mandinka, Demba Kunda, Katamina, Gissadi, Baro Kunda, Sambang Wollof and Dankunku in the districts of Upper Fulladu West, Lower Fulladu West, Niamina East, Niamina West and Niamina Dankunku.
The activities are funded by the UNDP.
Speaking at Samba Tacko village, Junkung Saidy, Senior Civic Officer at NCCE, said every citizen that has met the requirements has the right to vote for and be voted for.
Mr Saidy added that all political parties have the same rights in the country, and every citizen has the right to be affiliated to the party of his or her choice.
He also called on everyone to exercise their civic rights by going out to vote on Election Day, as a single vote can make one win or lose the election.
He urged women and the youths to change their attitude towards politics, saying they constitute the majority of the population, but "do not mostly fully take part in politics".
Power lies with the citizens as they are the ones that normally elect those in positions of power.
Kebba Jobe, NCCE Civic Officer, in his remarks on the occasion, urged citizens to vote in someone who can take the nation forward, adding that the country needs a leader who will bring about more development in all sectors and domains of the nation, such as schools, markets, roads, water, health and other areas.
Mr Jobe described elections as important as they bring peace and stability to a nation.
He also noted that the constitution has given every citizen the right to freedom of speech, conscience, assembly, association and movement.
He urged people to give equal value to all elections in the country.
A native of Samba Tacko village, Sulayman Sam, commended the NCCE for educating them on their rights and responsibilities.
The level of people's awareness about politics and elections "is still low", hence the sensitization should be carried out nationwide, he said.
Read Other Articles In Article (Archive)