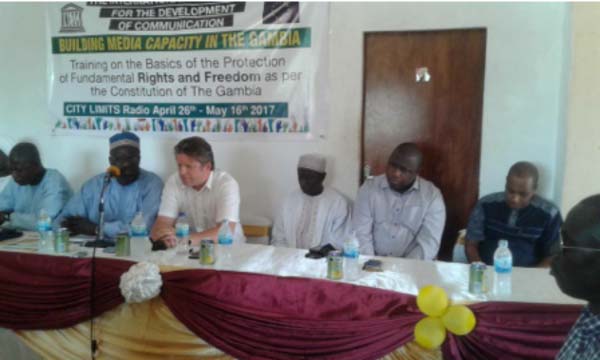 An 18-day training for staff of City Limit radio on fundamental human rights and freedoms guaranteed by the Gambian constitution has ended on Saturday.

The in-house training was organised by the radio management as part of a project to enhance the capacity of the Gambian media which is sponsored by the European Union through UNESCO.
Speaking at the closing ceremony held at City Limit, along Kairaba Avenue, Madi Ceesay, National Assembly member of Serekunda West, said journalism is a dynamic profession and the public relies on the media for correct information.
Deputising for the Speaker of the National Assembly, Honourable Ceesay said radio station is a medium for development, change and transformation.
He said for radio workers to be able to do this, their skills need to be consistently be sharpened.
Leszek Bialy from UNESCO-Banjul office said there is no democracy in any country where there is no freedom of expression, hence of the importance of the training by City Limit.
The chairman of National Council for Civic Education (NCCE), Alhaji Sering Faye, applauded the management of City Limit for its foresight in organising the training.
He said the fact that radio management had chosen to enlighten its staff on the 1997 constitution was a plus for the NCCE since one of the mandates of the council is to raise awareness of the public on the constitution of the country.
Faye appealed to those who had gone through the training to continue to disseminate what they had learned from the constitution.
The occasion was chaired by Babucarr Cham, the general manager City Limit Radio. He said during the 18-day training, the participants were taken through chapters 1, 2 and 4 of the 1997 constitution.
Read Other Articles In Article (Archive)