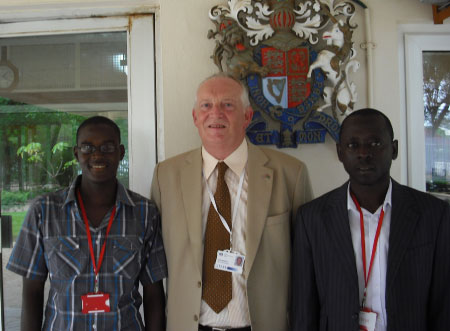 The British High Commission (BHC) has announced that Ebrima Sisawo, deputy permanent secretary at the Ministry of Basic and Secondary Education, and Sering Touray, who works at the University of The Gambia, have been selected as Gambian Chevening scholars for the academic year 2012/13. 
According to a press release issued by the BHC, Mr Sisawo and Mr Touray will both study economics post-graduate degrees at Edinburgh University as part of the UK government's Chevening scholarship programme. 
The Chevening Scholarship Programme began in 1983 and has since developed into a highly prestigious international scholarship.
The scholarship, which is granted every year through the British High Commission to two Gambian students, offers the opportunity to study at one of the UK's leading universities for one year.
"The two will depart to the UK next month to undertake their studies," the press release from the BHC said. The UK has now funded over 50 Gambian students to achieve post-graduate degrees in a range of academic disciplines. 
Commenting on the development, UK High Commissioner David Morley said: "It is always a pleasure to be able to send deserving and keen students to the UK to study for their postgraduate degrees under the Chevening scholarship programme.  I have no doubt both Ebrima and Sering will act as great ambassadors for The Gambia once in the UK and I wish them both the best of luck."  
For his part, Deputy High Commissioner George Sherriff added: "As someone who grew up and studied in Edinburgh I can assure both Chevening scholars that they will have a fantastic time studying in this beautiful city. I hope both students can find the time to explore Scotland and have advised them to pack warm clothes as we enter the Scottish winter."
Read Other Articles In Article (Archive)