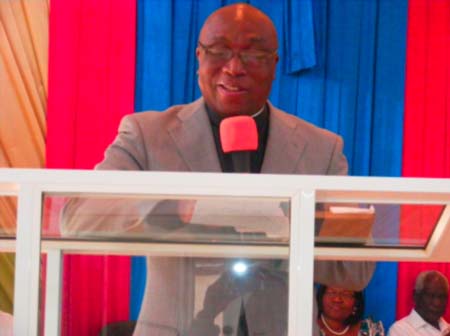 Churches across The Gambia on Sunday offered prayers for the country ahead of the 20th Anniversary of the July 22nd Revolution.
The commemoration of this year's anniversary is scheduled to take place from 9 to 19 October 2014.
As part of activities for celebrations, churches across the country offered fervent prayers covering the nation, the President, the government and the people of The Gambia.
At one of the churches in the country - Assemblies of God in Kanifing (AOG) - worshippers took time to offer special prayers as part of the service for the day.
In his brief remarks before the commencement of prayer for the nation, National Head and Senior Pastor of AOG, Rev Jerry E.K. Adjorlolo, said: "President Jammeh is one of the best presidents in Africa. He is a President with a vision and a mission; he has a good heart for his people. It is therefore essential to pray for our President so that God would protect and guide him."
Pastor Adjorlolo said that for the last 20 years The Gambia had registered remarkable development under the leadership of President Jammeh.
He thanked President Jammeh for the development and transformation that had taken place in The Gambia over the years.
The AOG National Head led his church into deep prayer, thanking and praising God "for giving The Gambia a leader such as President Jammeh."
The church cried unto the Lord to continue to protect President Jammeh and grant him greater wisdom and understanding to lead The Gambia.
They also prayed for the protection of the Cabinet ministers, National Assembly members, the Judiciary and civil servants for God to shield them from all harm and evil, asking God to bless them with more wisdom, fairness, and truth in their execution of state duties and functions.
The church as well prayed for the spirit of honesty and loyalty to rain upon the government officials as they work with the President to lead this nation
"May peace prevail, and let it be well with this nation," Pastor Adjorlolo led his church in prayer, thanking God for the peace and protection of The Gambia.
The church also lifted The Gambia to the Lord Almighty for protection against the deadly Ebola disease.
Read Other Articles In Article (Archive)