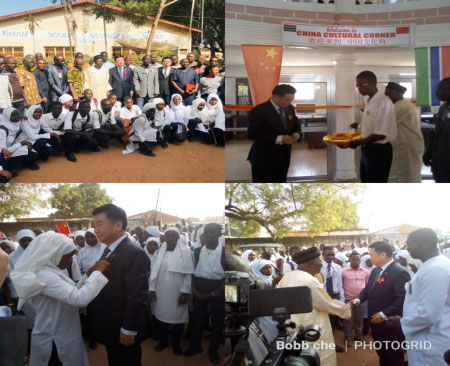 Ma Jianchun, the ambassador of People's Republic of China to The Gambia has said that just when he walked around in Nusrat campus he felt that Nusrat is indeed a school of discipline and aspiration, with strong passion for knowledge. "Nusrat is one of the best secondary schools in The Gambia," he remarked.

Ambassador Jianchun yesterday visited the China Cultural Corner at Nusrat Senior Secondary School where he made these remarks.
H.E Jianchun during the visit also gave the school stationery, notebooks, footballs, solar-powered flashlights, among others as a special provision for students' studies.
It could be recalled that in October 2019, Principal Bojang visited the Chinese Embassy and discussed with them the establishment of a China Cultural Corner at Nusrat library.
The Corner is well equipped with brand new furniture, computers, a giant-screen television and a solar power system that supplies uninterrupted electricity 24/7 with a number of books and videos about China stored in shelves in the Corner for visitors' reference.
He added that the visit made him understand why Nusrat has long been one of the best secondary schools in The Gambia.
He pointed out that in the past one year or so, he frequently heard news about Nusrat students making outstanding academic achievements and winning various awards, adding that until today, over half of all Gambian students and scholars who have successfully applied for the highly-competitive Chinese government Scholarship programmes are Nusrat graduates and alumni.
He highlighted that education exchange has always been one of the most important areas of the China-Gambia cooperation, saying that in the past few years, China has provided many scholarships and training opportunities for Gambian students and professionals of diverse backgrounds.
He recalled that three months ago, the much-anticipated first Confucius Institute in The Gambia was inaugurated, offering courses in Chinese language and culture for interested Gambian individuals.
He hoped the Corner will contribute to the learning activities of Nusrat, and also act as a window for visitors to explore various facets of China.
According to him, China attaches great importance to its relations with all African countries.
In conclusion he said he hoped the China Cultural Corner would help students seek truth and knowledge, look into the outside world, and reflect on how to make their contribution to building a prosperous Gambia.
Karamo Bojang, out-going principal Nusrat senior secondary school said the Corner will give students the opportunity to learn firsthand information about China's culture.
Mr. Bojang described China's government scholarship as very competitive because China offers quality education. "To study in China you must have excellent results," he said.
He thanked the Chinese government for their support to The Gambia government.
Read Other Articles In Article (Archive)