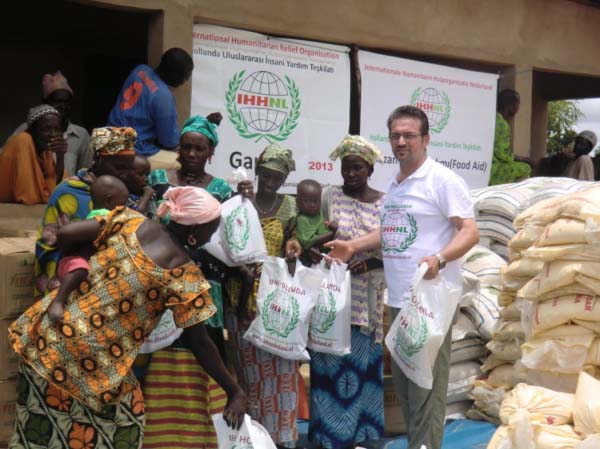 Madrasas in the village of Sare Samba Tacko, Ndegiri Kunda and catchment areas in both Lower Fulladu and Upper Fulladu Districts in the Central River Region recently received Ramadan gifts and other valuable items from an international humanitarian relief organization based in the Netherlands.
The food items were presented by IHH - International Humanitarian Relief Organization based in Holland - in collaboration with Cemiyatul Hyr Relief Organization in The Gambia.
The items donated included 150 bags of rice of 25kg, 150 bags of sugar of 10kg and 150 gallons of 5litre oil, clothing, shoes, and cash were also given to the poor.
Speaking at the distribution point, the country coordinator of Cemiyatul Hyr Relief organization (CHRO), Musa Jallow, said the organization is the first that his foundation started working with since 2000.
The organization, based in the Netherlands, aims to work with his foundation in addressing some of the issues affecting madrassa children in the sub-region.
He said they plan to provide them with shelter, food items, clothing and clean-drinking water as well as render support to needy Muslims during Ramadan and Tobaski.
The gesture is to complement government's effort in restricting children from the dangers and risks of human traffickers and their movement from one place to another begging in the streets.
According to him, the relief organization deemed it very fitting to give support to underprivileged children by providing them with food items, shelter and other necessities of life.
For his part, Essa Jallow, head of Madrasas in Sare Samba Tacko village who has more than one hundred and fifty children, hailed the donors for giving a helping hand to them.
He said food items at this point in time of the holy month of Ramadan are necessity for Madrasa children as well as the entire Muslim Umah.
He then expressed appreciation over the gifts and assured the donors that the food items will be used for its purpose.
In receiving some of the donated items, the Imam of Muritabeh village, Alhagie Era, lamented on the importance of caring and sharing as Muslims during the Ramadan.
He also joined previous speakers on the occasion to express joy and appreciation over the gifts provided to schools of the two districts.
He also thanked the country coordinator of Cemiyatul Relief Organization for making it possible for them to have the donation.
He further emphasised the need for love and care for each other, particularly in the holy month of Ramadan.
Read Other Articles In Article (Archive)