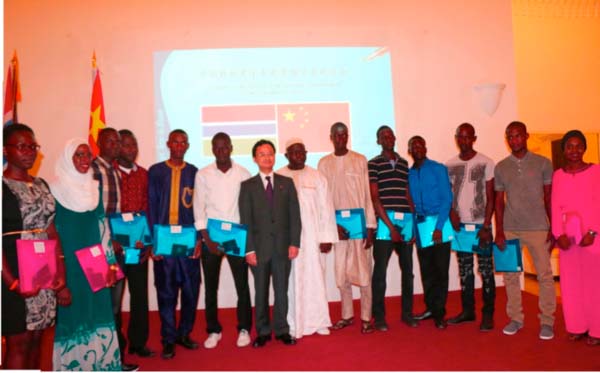 (Wednesday August 31st, 2016 Issue)

The Chinese Embassy in Banjul on 25 August held a farewell reception for 12 Gambian students, who successfully obtained the 2016 Chinese Government Scholarship to study in China.

This was the first batch of the Chinese Government Scholarships for Gambian students, since the resumption of diplomatic ties between the two countries in March this year.
The farewell event was attended by senior government officials, students and their parents.
Zhang Jiming, Ambassador of the People's Republic of China to The Gambia, highlighted the dynamic and robust momentum of the bilateral relations since March.
Mr Zhang emphasised the importance of education as a key area of bilateral cooperation and the promising future of this area with the implementation of China-Africa Cultural and People-to-People Plan put forth by Xi Jinping, President of the People's Republic of China, at the Johannesburg Summit of the Forum on China-Africa Cooperation in December 2015.
The Chinese ambassador challenged the students to work hard, pointing out that they should never forget to align their own dreams with that of their motherland, to which they are so deeply indebted and will have so much to contribute.
According to him, this was the first group of Gambian students being seen off, adding that it showcases how fast and how much their newly-established ties could deliver and benefit the people.
He said it comes a long way within a short period of around four months to make the Chinese Government Scholarships available and the Gambian students' application successful, and their trip to China ready.
"This is an occasion for celebration," he said.
Zhang Jiming emphasised that education is a long-term investment in human capital and one of the fundamental factors of national development.
He congratulated the Gambian government and people on the "wonderful July 22nd anniversary celebrations and the laudable progress achieved in the past decades on so many fronts with education as one of the many outstanding areas of development registered."
He said China and Africa though far away from each other, are "connected heart and soul".
He said they are bound together not only by profound traditional friendship and shared interests, but also by their common pursuit of development dreams.
"China and The Gambia are old friends with renewed friendship," he said, pointing out that the decision to normalise relations by the leaders of the two countries serves the fundamental and long-term interests of the two countries and people.
He stated that both China and The Gambia attach great importance to the relationship.
He explained that in the past few months, since China and The Gambia resumed diplomatic ties, their bilateral relations have enjoyed a dynamic momentum of development.
He disclosed that there are plans and projects in the pipeline, which he believes they would soon start to implement for the benefit of the two countries and people.
Zhang Jiming opined that in the course of their respective strides towards national development and prosperity, there is a relationship of friends, brothers and partners, one that is based on equality, mutual respect, mutual benefit, win-win cooperation and common development.
He encouraged young students, saying seeking knowledge in China becomes more relevant today.
"China is huge in size and population, rich in history and culture, diverse in ethnicity and religion, unique in language and tradition. It boasts an unbroken history of more than 5,000 years of civilization, and a strong bond among its over 1.3 billion Chinese people of 56 ethnic groups.
"I hope you all will be good ambassadors of your country, and help promote the mutual understanding and friendship between our two brotherly people and countries," he added.
Read Other Articles In Article (Archive)