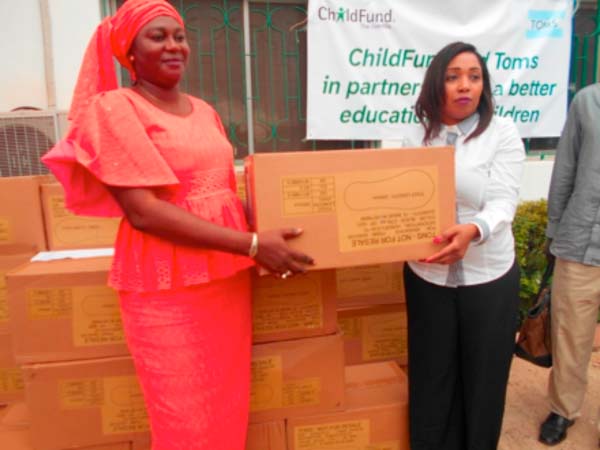 The country director of ChildFund The Gambia, Musu Komma, has said ChildFund International has been collaborating with different donors such as Toms, Pearson and other individual for the past three years to support ChildFund The Gambia with education related gifts.

She said as child protection and development agency, they strive to tackle underlying causes of deprivation, exclusion and vulnerability.
She made the statement during the presentation of 189,600 pairs of shoes donated by Toms based in the US to the Ministry of Education through ChildFund The Gambia for onward distribution to various regions across the country.
ChildFund partners with The Gambia government to ensure the promotion and protection of children, she said.
She also stated that ChildFund and The Gambia Government have common vision to support the development of all children living in The Gambia.
"The two parties have enjoyed deeply-funded relationship for decades. We support each other and our joint collaboration is significantly important to the development of children, who are the future leaders and progress of society," she added.
She said Tom's shoes to a large extent came as a result of series of consultation and interactions between ChildFund The Gambia and its partners to receive three 40-foot containers with 53,000 pairs of shoes.
This was part of their commitment to improve access to education, especially for those in need, she indicated, adding that ChildFund The Gambia was pleased to hand over the materials to MOBSE for onward distribution to the regions.
She said all this was geared towards complementing government's effort as ChildFund and its development-oriented partner in child protection and development.
She expressed sincere thanks to Toms for partnering with ChildFund in supporting children.
They undertook the project with high sense of responsibility and continue to donate over 100,000 pairs of shoes annually.
She also thanked the local communities and educational officials who continue to work the day-to-day management of the project.
Read Other Articles In Article (Archive)