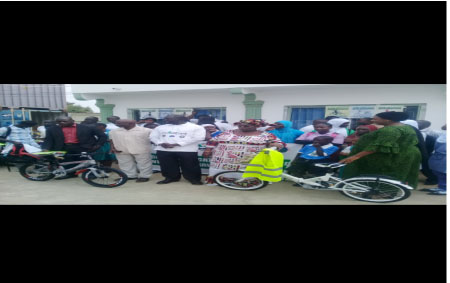 Child Fund- The Gambia, yesterday presented one thousand bicycles from its international donors to Gambian students, geared towards improving access and retention in schools.

Country director, Musu Kutu Komma said the Dream Bikes would go a long way in promoting children access to school and their retention in the school system.
She explained that they are cognizant of the fact that students, particularly girls are more vulnerable to situations, where they need to move from one community to another to attend school.
This, she said, is not the first time Child Fund is giving out Dream Bikes to children, recalling that sometime last year they also distributed over 1000 bikes to each of their local partner organisations.
"Assessments conducted by Child Fund before and after those donations showed tremendous impact, indicating improvements in grades of children that benefited from the dream the Bikes as well as school attendance."
Speaking on behalf of the Child Welfare Agency's board of directors, Amie Kolleh Mbye said Child Fund's support to education cannot be underestimated, saying they have done a lot in enhancing quality education.
"This is done to complement efforts of the government and the Ministry of Education in making sure education is accessible to everybody."
The beneficiary students, she said will be monitored and sensitised for proper usage of the bikes, saying when it comes to the girls, safety is very key.
A representative of the Ministry of Basic and Secondary School also thanked Child Fund for their invaluable contribution and support to students especially in the rural areas.
He said the bicycles will improve student's attendance and punctuality and achieve the objective they are all yearning for.
On behalf of the children, Jainaba Jallow thanked Child Fund for the gesture, expressing optimism that the new bicycles will promote access to education and timely arrival in schools.
Out of the total, 250 bikes were given to Sama Kairo Federation, 250 to Foni Dinding Federation, 250 to Dinding Yeriwa Federation and 250 to selected committees in Lower River Region, where they have been expanding through their sponsorship program.
Read Other Articles In Article (Archive)