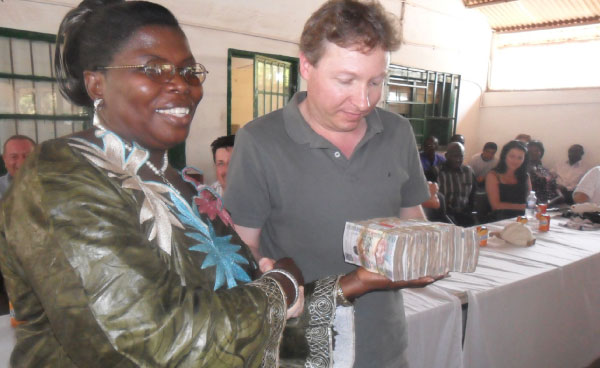 Christian Humanitarians Helpers Association for The Gambia (CHHAFTG) based in Germany last Thursday presented tools and cash to the Gambia Technical Training Institute (GTTI) Banjul Annex Building branch and many other social institutions.
Mr Kakai Sanyang Registrar of GTTI main campus, speaking on behalf of the Director General of GTTI, Abdoulie MA Loum, thanked the donors through Mr Blain for their timely donation to the GTTI Banjul Annex Building.
Mr Sanyang told donors that the Senior Management of the GTTI really values their efforts of donating such items to the institute at a right time they are needed.
He emphasised to them that the government under President Jammeh has attached three important principles to education in The Gambia, such as access, relevant and quality.
Speaking at the presentation ceremony, the Central Manageress of GTTI Banjul Annex, Elizabeth Mendy, thanked the donors through their Gambian counterpart, coordinator Anthony Blain, for helping the institute.
She said the items donated will go a long way in solving some of the major problems they face during their lesson time. Mendy also assured the donors that the items donated will be put into good use.
The President of CHHAFTG based in Germany, Ingo Roth, promised the GTTI Senior Management that his association will take care of the GTTI Banjul Annex Building for the coming five years.
He said the people of Germany have "clean heart" for the people of The Gambia for that reason the standards of the GTTI Banjul Annex would rise up.
He also said that they may look into the possibility of having exchange visits between the students in Germany and the GTTI Banjul Annex students.
Mr Anthony Blain, CHHAFTG Gambian coordinator said, the association started operation in the country in 1990.
He revealed that in the 2010-2011 school academic year, they brought educational items to four schools in the country.
Meanwhile, at the same ceremony, the association also presented cash amounting to D114, 000.00 to the GTTI Banjul Annex management.
They also donated St. Mathen's Nursery and Lower Basic D173, 584.50, Essau Lower Basic D389, 756.00, Madina Kanuma Day-Care Center - Mayamba D111, 362.00 and Koba Kunda Lower Basic schools - Basse D306,183.50.
Mr Blain said the association also brought along a 40-foot container of school furniture to Essau Lower Basic School in Region three in October 2010.
The President of the GTTI main campus, Bunama Colley, and Secretary General GTTI Banjul Annex building, Bintou Kanyi, all spoke at the ceremony.
Read Other Articles In Article (Archive)