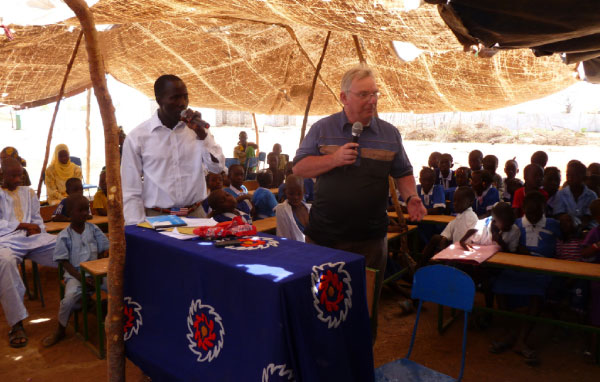 Friends of The Gambia Association (FOTGA), a local NGO, recently inaugurated a new nursery school in Maka Ali Sarr, Central River Region North.
The nursery school was dedicated to the Late Richard John Hollinghurst, a philanthropist and strong supporter of FOTGA.
Speaking at the inaugural ceremony, Yayah Camara, FOTGA Country Director, stated that his organisation has been in operation for over 20 years.
"Our objective is to complement government efforts in achieving MDGs and the Poverty Reduction Strategy Paper 11 as well as vision 2020," he said.
According to Yayah, FOTGA intervention focuses on education, agriculture, health and provision of safe drinking water.
"All these geared towards improving the lives of the Gambian people, especially the local communities," he said.
Further highlighting some of their recent intervention areas, Camara said, FOTGA build series of clinics, nursery schools and provides equipment for the clinics.
He added that they support learning and teaching in some schools and even employ staff to run and manage the facilities.
The organisation is currently sponsoring over 300 students from various schools in The Gambia such as Kaur, Armitage Senior Secondary School, and Essau Lower Basic School.
They sponsored students from grade 7 up to university level depending on the performance of the student.
He added FOTGA also provides boreholes for women horticultural gardens and promotes skills acquisition for the youths to better improve their lives.
"All these projects FOTGA is undertaking is to support the poor local communities to better up their living conditions thus reducing poverty," he said.
He noted that all the facilities provided in their intervention areas are being run and manage by the communities themselves.
"FOTGA only monitor and supervise to ensure effectiveness and sustainability at all time. Part of the proceeds from these facilities are been use for the up-keep of the facilities and the rest to support community small projects," the local NGO boss said.
This year FOTGA intends to implement two projects in the country such as the construction of a standard health centre in Bakindic village in North Bank Region and the construction of a nursery school in Bakau.
For his part, Ousainey Sanyang, coordinator of a Belgium-Gambia Foundation in The Gambia called Demaro Gambia, stated that his foundation was established in 2002 with objectives to support local communities.
According to him, the foundation support non-formal education, gardening, health care services delivery in order to complement the efforts of the government.
He said FOTGA and Demaro Gambia has similar dreams to achieve and are looking into the possibilities of partnering to implement certain projects in rural Gambia.
Highlighting some of  the successes registered by Demaro Gambia, which include support to Dippa Kunda, Kerr Sering, Bakoteh, Bakindic communities in the areas of health care service, education, and agriculture.
Mr Rob Isdale, FOTGA project manager, said all what is been done is to improve the living conditions of the beneficiaries, especially the children who are the future drivers of the nation.
He called on the communities to proper handle the projects and to ensure that they serve the purpose for the benefits of future generation. According to him, funds are been raised to support communities initiatives and sub-projects to improve living standards and reduce poverty. John Gomez, a cluster monitor of the area, commended FOTGA for what he described as a humanitarian gesture.
According to Mendy, the gesture is in line with the government policy which seeks to provide accesses to relevant and quality education for every Gambian child.
He added that 90% of all Lower Basic schools in the Region are now having ECD centres to ensure that every child is been captured in formal education.
Ismail Sidibeh, headmaster of school, said now that the Ministry of Basic and Secondary Education and FOTGA have provided a school with learning and teaching materials; now is the responsibility of all parents and guardians to send their children to learn.
Read Other Articles In Article (Archive)