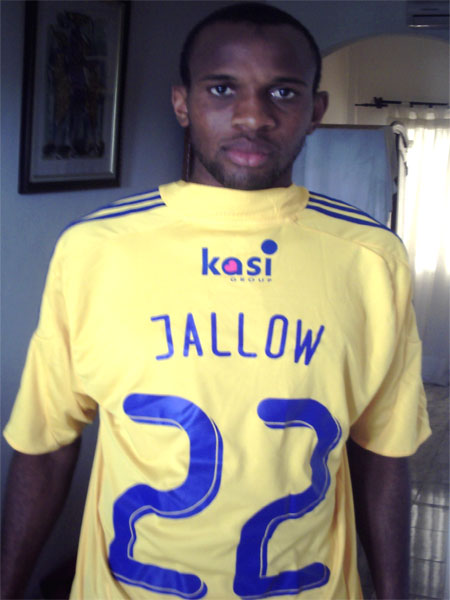 Gambian star striker, and former Wallidan and Alalin football clubs in The Gambia and Saudi Arabia, Ousman Jallow has express his happiness after his recent  move from Saudi Arabian giants Alalin Football Club to join  the Danish  first division club Brondy FC on a three-year contract.
Speaking to Pointsports, Ousman Jallow expressed happiness with the  move to Denmark and said, "it is a good move for me after playing in the Arab league for some time now I have to moved to Europe which is another good step for me because playing in Europe is better than playing in the Arab league."
He added, "You play many games and a lot of scouts will be watching you playing and Bromby are a very big team in Denmark and Scandinavia and are currently playing in the European cup. It is a good club for me and I am very happy to be at the club."  He said that he could have made his debut against Copenhagan FC before coming to The Gambia, but "due to negotiations between the two clubs towards finalising the deal I will not make it for that game." According to Ousman Jallow, the Danish giants spotted him during the preseason in Germany. "We had our preseason in Germany and we were playing with a German first division team. The President and the coach of Bromby FC were watching me without my knowledge. But I was later told in Denmark by the President."
He further explained, "it was very tough for the two parties to come to terms because the team did not want me to leave so I finally signed on Saturday and my residents permit was not ready for me to play for the team on Sunday."
Asked about his impressions on the upcoming game against Liberia, Ousman expressed optimism that by the help of God The Gambia will win. "The game is a very important game for all of us because it is a must win game. All we need is the support of all Gambians and by the help of God we will win," he stated.
Read Other Articles In Article (Archive)