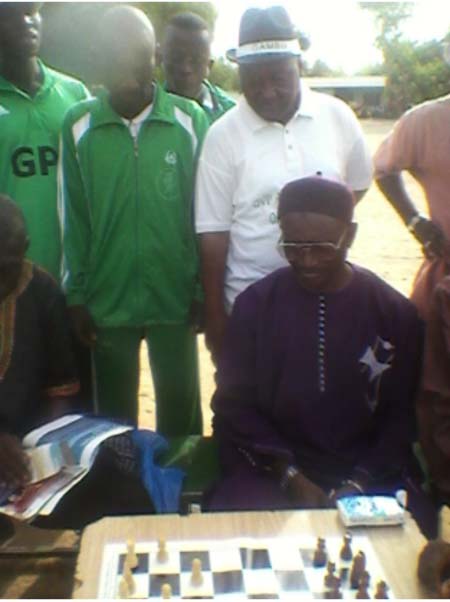 The Central River Region Youth and Sports Association held its 2015 May Day mass sports celebrations on Saturday 30 May 2015 in Janjanbureh.
The ceremony began with a march-past from Owen Street to Armitage football grounds where different government departments, institutions and organizations lined up for the day's event.
During the activities Chess triggered a lot of interest from various participants showing their love and interest for the game.
Speaking during the ceremony, the Governor of the region, Alh Omar Khan expressed delight for the introduction of the game in his region and thanked the Gambia Chess Federation for its hard work and dedication to see that the game is played across the country.
He went on to implore the federation to introduce the game to the schools.
Alassan Jawo, the regional sports co-coordinator and President of the regional Chess Association, Abdourahman Marong, both thanked the members of the Gambia Chess Federation for their support in making the event a success while renewing their commitment to work with the Gambia Chess Federation as well as expressed readiness to host a regional chess competition in collaboration with the Gambia Chess Federation in the near future.
For his part, Amadou Jallow, 1st Vice President of Gambia Chess Federation, who was head of the delegation to Janjanbureh, thanked the regional authorities for the warm welcome accorded them during their visit and commended the organizers for including chess in their activities.
Jallow praised the members of the chess association regional committee for their commitment and steadfastness in promoting the game in the region.
He encouraged them to start forming chess clubs and organizing competitions among themselves.
In conclusion he reassured the committee of the federation's support at all times. 
Read Other Articles In Article (Archive)