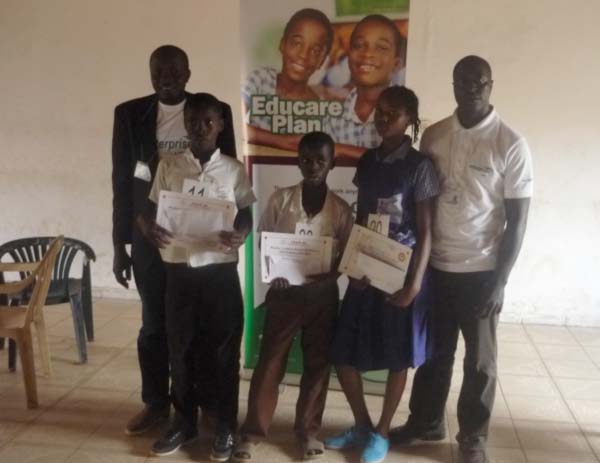 Ebrima Manneh, a student of Arangalen Lower Basic School in Foni, was on Thursday declared winner of the Foni spelling bee competition.
Kebba Lang Camara of Bondali Lower Basic School took second position while Kaddijatou Jallow of St Anthon's Lower Basic School finished third.
Ebrima went home with a cash prize of D2,500, Kebba Lang D1,500 and Kadijatou D1,000.  In addition, they were each given a certificate.
Also, all the other participants were awarded certificates of participation.
The prizes of the competition, organised by TAKE-M Transformation Organisation, were sponsored by Enterprise Life, a life assurance company.
The final of the competition, which brought together students from various schools within Foni district, was held at Dingding Bantaba Federation Conference Hall in Sabanor village.
Tunde Muyi Ogundimu, chief executive officer of TAKE-M Transformation Organisation, said the organisation works with the government to promote quality education in The Gambia.
He said the organisation targets lower basic schools with the competition because that is the foundation of education, adding that the good the foundation, the better the future of education.
"These students are the future leaders but their future starts today and that is why all hands should be on deck in ensuring they have a strong foundation," he said, adding that the way children are molded today matters for their tomorrow.
Mr Ogundimu pointed out that if kids are not given the best today there will be a problem not only in society but the entire country tomorrow.
He noted that The Gambia is today blessed with a woman governor and vice president who all have made such achievements through education.
He said his organisation wants to build a network of students who will be role models for other students but they need support of cash or kind to be able to embark on some of their programmes.
Wahab Fatty, business development manager at Enterprise Life, said if people sacrifice for the kids today, they will be very good leaders in future.
In this vein, he said the life assurance company is committed to continue supporting initiatives such as that of TAKE-M.
Aisatu Maane of RLG, a key partner of TAKE-M in the spelling bee competition, said the spelling bee is more than just a competition but an exercise that will have long lasting benefits to the kids' education.
According to her, reading and writing are the two most important skills in one's education and career, and both skills have strong roots in spelling.   She said they hope to continue supporting TAKE-M.
Malang M. Kuyateh, senior education officer responsible for quality education at Region 2, said their main focus is to ensure that quality education is achieved in every school.
He said they have adopted a multi-dimension approach to achieve quality education in the country.
He finally thanked the organisers, sponsors, cluster monitors, headmasters, teachers, students and everyone that has contributed to the success of the spelling bee competition.
Read Other Articles In Article (Archive)