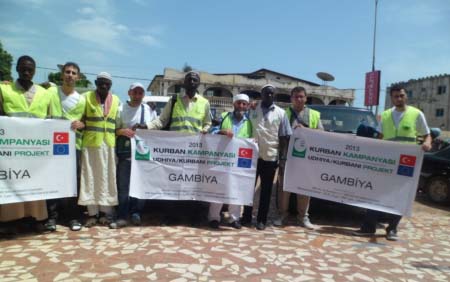 Cemiyatul Hayre Relief Organization (CHRO) in collaboration with their Turkish counterparts in Germany IGMG-HASSENE and IHHNL-Holland last Monday and Tuesday distributed over four hundred cows to the poor and needy across the country.
The distribution began on Monday for the community of Kanifing Municipality at Abuko with two hundred cows and later at the Brikama forest cow selling depot for West Coast Region; and one hundred for other regions across the country.
The gesture, meant to help poor and needy Muslims for the feast of Tobaski, was sponsored by IGMG-HASSANE, a Turkish charitable organization in partnership with their counterpart IHHNL-Holland, while the distribution was coordinated by CHRO officials in The Gambia.
The beneficiaries included Kanifing Municipal Council, North Bank Region, Lower River Region, Central River Region and West Coast Region.
Speaking to reporters shortly before the distribution, Musa Jallow, country coordinator of Cemiyatul Hayre Relief Organization, said the organization over the years has been carrying out such a gesture, which is a great help to the communities.
The gesture, he said, is an annual activity embarked upon by these organisations with a view to complementing the efforts of the Gambia government in assisting the poor and needy, especially during feasts like Tobaski.
According to him, the organization started operation since 2000 with a small number but thanks to the Almighty Allah and the Government of The Gambia for creating the enabling environment, more and more donors are investing and the number of animals given out is increasing.
He further commended their Turkish counterparts from Germany, saying the organization felt it necessary to travel all the way from Europe to Africa to help the poor and needy.
Jallow went on to call on the beneficiaries to change their attitude as this will motivate the donors to invest more in their welfare.
The organization, he added, is currently engaged in many development projects in the country, all of which will have direct impact on the lives of the people.
For his part, one Haruna Jallow, a beneficiary based in Latrikunda, thanked Cemiyatul Hayre Relief Organisation and their counterpart IGMG-HASSANE for the wonderful gesture, saying assisting the poor and needy is in line with the teachings of Islam.
Demba Gassama, another beneficiary, said the donation came to him as a surprise as things were very difficult for him to secure a ram to make his family happy during the Tobaski.
The IGMG HASSANE donors are still in the country visiting their project sites to assess them and see what they could do to increase the organisation's generosity for the wellbeing of the Gambian community.
Read Other Articles In Article (Archive)