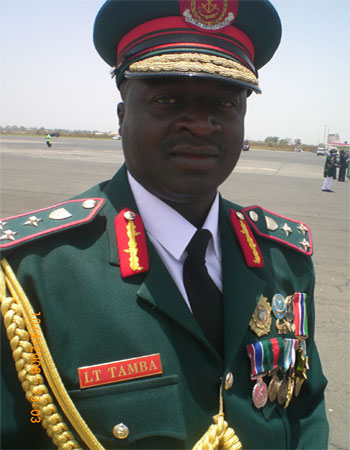 The Chief of Defence Staff, Major-General Lang Tombong Tamba in his inaugural speech at the GNOC congress in the Olympic House when he accepted the leadership of the Gambia National Olympic Committee as the President- elected unopposed, promised to uplift the moral values of sports in the country and give it a national symbol of ownership.
 Tamba pledged that he and his peers would strive to work in unison, and in consultation "to accelerate and improve sports, and ensure a better and brighter future for all our people, particularly the youths who are the most active in sports and the epicentre of the nation".
Speaking at the occasion, he outlined his intended plan for the next four years.
Tamba disclosed that "foremost in his agenda was to look at the best designed ways that would meet the realities of sports in the country, so that the GNOC will become a symbol of hope for the hopeless".
CDS Tamba reiterated his commitment to work hard to the best of his ability in order to maintain, improve and provide the necessary arrangements for administrative and operational efficiency of the GNOC which, he added, "will not be considered as promised but a mission statement of his bureau".
Tamba explained that the calibre of people around him is good, noting that their efficiency is impeccable. He therefore assured that a bottom top approach in running issues relating to the advancement of the body would be applied.
"I am convinced that every institution including GNOC will along its growth be confronted with setbacks, but my priority would be to research and explore not only the best ways, but instead the appropriate ways for the general assembly to grow to the expectation of the nation," he stated, adding that, "I will also encourage and help inculcate the spirit and principles of the Olympic Charter, where the GNOC will operate under an atmosphere of fairness and equal competition that is void of discrimination with regards to gender, tribe or region".
The other elected members in the executive bureau were Ms Beatrice Allen- 1st Vice-President, Mam EssaGaye 2nd Vice-President, Secretary-General Omar Njie Barrow, and Treasurer Ousman Wadda. The nominated three Olympic representatives were Abdul shyllon, Musa Cassa Taal and Sheriff Jammeh; and others by the president as bureau members: Mass Axi Gai, Amira Jagne and Mary Samba Christensen. The only contested position was 1st Vice President, between Mr Dodou Joof of the Gambia Athletics Association and Miss Allen of the Softball Association which the latter won by 29 votes to 9.
Read Other Articles In Article (Archive)