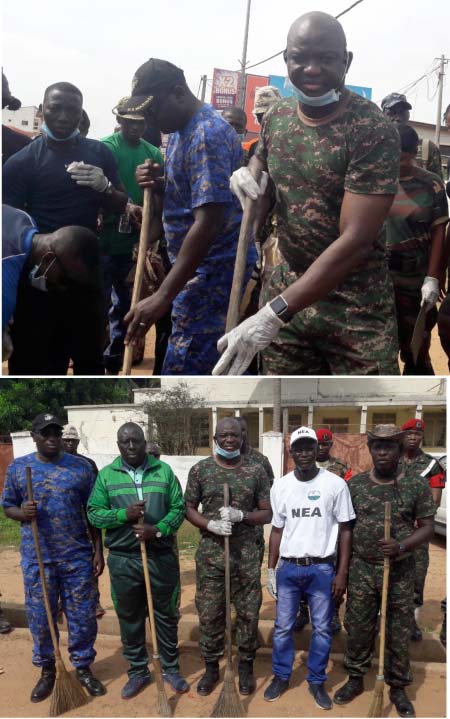 The Chief of Defence Staff (CDS) of the Gambia Armed Forces Masaneh Kinteh has called on the citizenry and non-alike residing in the Gambia to integrate the idea of sustainable environmental protection into their daily and routine activities as a means of guaranteeing our livelihood sustenance.

He said the protection of the environment is everyone's business and therefore called on all and sundry to take ownership of it.
Kinteh made this remarks during the maiden edition of the newly instituted National Cleansing Day exercise (Set-Setal), noting that the activities will by no small measure improve solid waste management in The Gambia and prevent potential negative impacts to human health and the environment, taking into account The Gambia's socio-economic settings.
He reiterated that the Gambia Armed Forces is a professional and a discipline force that will not only render defence and military support to the nation, but they are also committed to rendering humanitarian and relief support to their civilian population where they all come from.
"We are committed and proud to give back to the communities we all come from as an olive token in improving their livelihood support systems," he pointed out.
As one of the greatest and concerned partners to the National Environment Agency (NEA), The Gambia Armed Forces has during this National Cleansing Day exercise formerly called Operation Clean the Nation came out in their large numbers in all their military installations throughout the country including Farafenni, Soma, Kudang, Basse, etc. and join their brothers and sisters to bring environmental sanity to their communities.
Within the Greater Banjul Area, there is generally insufficient resources to collect all waste produced and, in some places, there were temporal dumps which had become permanent at some locations rendering different form of environmental nuisance including smoke and bad odour.
This unfortunate eyesore and unfriendly environment according, to General Alhagie Mattin of the GAF, left them with no alternatives but to come out in their large numbers throughout the length and breadth of the country to get rid of the waste menace.
He therefore called on the general populace to change their attitude towards the environment as it is the food basket of our livelihood.
Read Other Articles In Article (Archive)