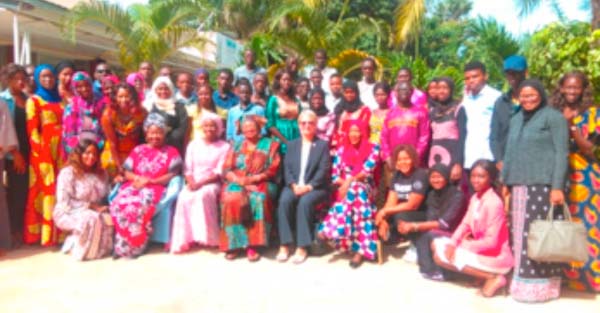 The Girl Generation (TGG) Friday held a youth convergence on Female Genital Mutilation (FGM) with the theme "Expanding youth space to FGM".

TGG is a global campaign that supports the Africa-led movement to end FGM.
The campaign amplifies the issue on the international stage and brings attention to inspirational stories of change from some of the most affected countries in Africa including The Gambia.
TGG accelerates the worldwide movement to end FGM by galvanizing action, allotting campaigns across Africa and pushing for more resources to end FGM through the effective use of social change communication and capturing positive stories of change.
It provides a positive identity under which the global movement can rally and a common platform for the idea that together FGM can be ended.
The event, which took place at Baobab Holiday Resort in Bijilo, brought together seventy-five youths across the country to work collectively in the fight against FGM.
Speaking at the ceremony, Musu Bakoto Sawo, programme officer at TGG, said their vision was to see girls in Africa live a meaningful and healthy life and to also end FGM in one generation.
She said it was up to the youth to ensure that FGM is ended in one generation by making sure they do not expose their children to such traditional practices.
She said this was why TGG took it upon themselves to support grassroots organisations in various parts of the continent by giving them funding through their "End FGM grants" and also amplify positive stories of change at the global level.
Mrs Sawo pointed out that as part of their work, they also address issues of child marriage, saying that through that they target young people that are making changes in their various communities to highlight their work to ensure that everyone is well informed.
She disclosed that the launching of the youth Anti-FGM network in 2016 gave birth to the convergence meeting to ensure that they are able to register the success they have made and their challenges.
"We want to ensure that we build a bigger movement in The Gambia that we amplify voices because together we are stronger," she said, adding that if they duplicate their efforts at different levels then it means that their work would not be solidified.
Also speaking, Bafou Jeng from the Ministry of Justice, said The Gambia has also put in place other legislation that are geared towards protection of women and children, especially the child, from sexual and other forms of abuse.
She said the Ministry of Justice would not relent in its efforts at continuing the promotion and protection of women including boys and girls, most especially the girl child, considering that women and youth are the cream of the society and their protection is key in the development agenda.
Ms Sharon Wardle from the British Embassy remarked that the UK government was committed to playing a key role in leading international communities towards ending FGM worldwide and they want that to happen within a generation.
Sise Sawaneh, TGG media ambassador in The Gambia, said the media have done a great work, especially print, in disseminating information in making sure whatever was discussed was taken through the masses.
She thanked all media personnel who in one way or the other has put in a hand in the fight against FGM, urging them to continue enlightening the public.
Read Other Articles In Article (Archive)