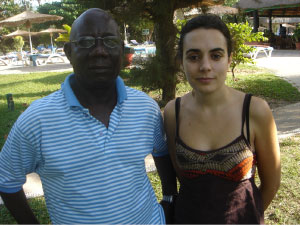 The desk officer for Africa and the Mediterranean at the Catalan Fund for International Cooperation has arrived in the country for a ten-day working visit.
Clara Xifra Quintana is in the country to follow up and monitor the Catalan Fund's intervention sites in the Upper River Region of the country and to meet with relevant authorities and stakeholders.
According to her, during her stay in the country, they would organise a capacity assessment for state and non-state actors on decentralization and local development, among others.
"The forum would identify gaps in institutional governance, local governance, finance management, external relations, among others," she said.
The participants at the forum would validate a study on their findings regarding capacity assessment in the region.
The fund, established in 1986, comprises 300 city councils in the region of Catalonia, Spain, and other public institutions, she said.
She revealed that the aim is to work for international development cooperation by providing capacity building, partnerships and technical exchange for local authorities and civil society organisations in Sub-Saharan Africa, Mediterranean and Southern America.
In the region of Catalonia there are seventeen  thousand Gambian residents, which was why they were motivated to help support projects in their country of origin.
Clara, who is on her 4th mission to the country and last visited Banjul about a year ago, told The Point that they would now be moving ahead with the 2nd phase of the project, which is based on training.
She said their interventions would include health, education and agriculture but would be depended on the needs of the communities and partners.
After this phase, we would be able to have some level of confidence with them and help them raise funds for them to manage bigger projects, she said.
Kemo Conteh, of Governance Development and Management Services (GMDS) and a senior partner to the project, said their intervention seeks to provide technical assistance to countries through the CSOs and local councils.
"We want to go down to the grassroots as possibly as we can to reach out to more communities," he remarked.
An important element of the intervention is to bring councils closer to the civil society in brining sustainable community development, he said.
He said that right now they are focusing on URR but when the project is successful, they may also move to other regions.
Read Other Articles In Article (Archive)