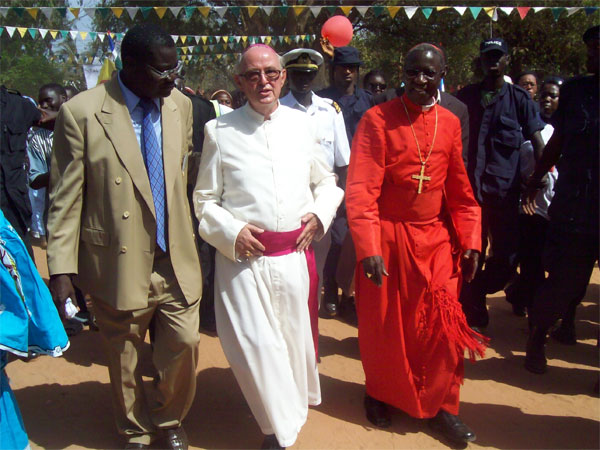 His Eminence the Cardinal priest of Dakar yesterday received a thunderous welcome from the airport to the Shalom Retreat Centre at Fajara his base for the three-day visit.
Theodore Adrien Cardinal Sarr, with his entourage was yesterday received at the airport by thousands of Christians and Muslims as they landed on the Gambian soil. According to observers, the Cardinal's welcome is synonymous with the religious tolerance exercised in The Gambia.
The lay faithful and the religious and Bishop Patrick Bobby Ellison CSSp. Were among a government delegation to welcome the Cardinal priest and his entourage. As it is common of the Serrers , music and dancing ensued as soon as the Cardinal landed. The place became jubilant and everyone joined in. Many young boys and girls followed behind the car on foot before they joined their cars or buses.
Those in Lamin both Muslims and Christians thronged the road singing and dancing. Some had masks dancing in joy. This continued amidst praying for him.
According to Rev. Fr. Peter Stephen Lopez said, "The Cardinal's visit is meant  to strengthen the  faith and the already existing cordiality between Christians and Muslims in the country and the help given to us by Muslims to welcome this great man. We are delighted."
Fr. Bruno Toupan the principal of the St. Peter's Senior Secondary School, who is part of the organising committee for His Eminence's visit, said "I am glad he finally came. I welcome the thunderous support from the Gambian people. This is a strong solidarity in our country and it will go a long way. We believe in our people and the government. The escort provided by the government is commendable and it shows the cordiality between the Christians and Muslims of our beloved country. His Eminence has a good number of programmes to follow, including a mass at Lamin where he will confirm some candidates on Saturday at 4pm. He will celebrate the Sunday Mass at the Cathedral of Our Lady of the Assumption. WE welcome everybody to those occasions."
Aunty Claudette Johnson, a parishioner at Star of the Sea, president of the Lectors of that parish and member of the Cluny Associates, said, "We are waiting for the Cardinal's blessings. We are delighted that some people are seeing cardinal. The joy of Christ is in all who come for this programme." However, the Cardinal will return on Sunday after meeting with the President.
Read Other Articles In Article (Archive)