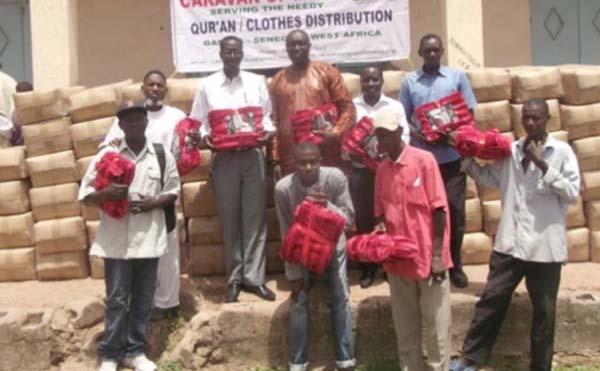 Caravan of Mercy, an international NGO operating in The Gambia, recently donated at least 900 blankets to various health facilities in The Gambia.
The donated items were presented during a ceremony held at the NGO's headquarters in Brikama, West Coast Region.
The blankets were distributed to Edward Francis Small Teaching Hospital (510 blankets), Bwiam Hospital (200 blankets), Serrekunda General Hospital (130 blankets), Sheikh Zaid Eye Care (50 blankets), and Farato Health Centre (21 blankets).
Baba Njie, chief executive officer of Serrekunda General Hospital, hailed the NGO for the donation, saying the donated blankets will be used by patients admitted in the hospital during cold season.
CEO Njie noted that Caravan of Mercy has been extending a helping hand to the hospital in the past years.
Receiving the donated blankets, Modou Lamin Jammeh, public relations officer of EFSTH said the gesture is well appreciated.
He said there are 510 beds in the EFSTH; thus the donation of 510 blankets means all the beds in the hospital will get a blanket.
"This donation is dream come true because it will reduce our expenditure on blankets for patients," Mr Jammeh said.
He explained that Caravan of Mercy has been a true partner of EFSTH for long; this is not the first time the hospital benefited from the NGO.
Ansumana Mendy, hospital administrator at Sulayman Junkung General Hospital in Bwiam, said the management is happy to receive the donated materials.
He noted that the donation would put smiles on the face of patients admitted at the hospital.
Pa Modou Sillah, coordinator of Caravan of Mercy, said the NGO was established to support the poor, needy and widows in The Gambia.
"We are doing everything possible to provide support to these sets of people in the society," he assured.
Earlier on, Caravan of Mercy made similar donation of blankets to various other institutions such as Kuntaur Health Centre (100 blankets) and Armitage Senior Secondary School (500 blankets).
Highlighting some of their latest interventions, Mr Sillah said the organisation during the Ramadan distributed bags of rice, sugar and gallons of cooking oil worth at least D480,000 to seven rural communities in the Upper River Region.
Read Other Articles In Article (Archive)