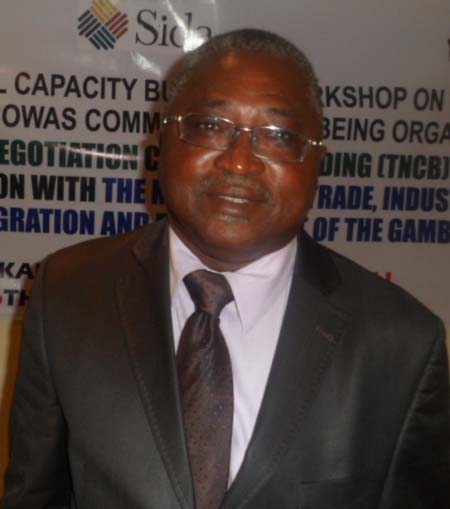 A three-day institutional capacity building workshop on the instrument of ECOWAS common market has ended at the Kairaba Beach Hotel.
The workshop was organised by the ECOWAS Trade Negotiation Capacity Building Project (TNCBP), in collaboration with the Ministry of Trade, Industry, Regional Integration and Employment.
Speaking on the occasion, Trade permanent secretary Naffie Barry said ECOWAS common external tariff (CET) was adopted by the ECOWAS Authority in 2006.
"The call for a CET in the region is one of the necessary conditions to establish a customs union as enshrined in article 35 subsection one of the ECOWAS Revised Treaty," she said.
"The progressive establishment of a customs union among member states over a period should have started since January 1990; however in the preparation process of the CET, the member states have to harmonize their tariff rates with the CET once the negotiations are concluded."
The permanent secretary further stated that the CET has become even more urgent in light of the negations on the Economic Partnership Agreement between West Africa and the European Union.
She said the objective is to have uniformed tariff rates in the region on imports from Third World countries.
Turning to the workshop, the permanent secretary further noted that the workshop was intended to build the expertise of relevant officials, policymakers and the private sector on intra-ECOWAS trade and its related matters, and also to reinforce in particular the efficient and effective implementation of the protocols and guidelines governing the ECOWAS Free Trade Area (FTA).
PS Barry noted that the institutional capacity building workshop is timely given the fact that The Gambia has now completed the formulation of a Medium Term Plan (MTP) for the implementation of National Trade Policy 2011 and also finalised the review of the Diagnostic Trade Integrated Study (DTIS) 2007, with ensuring that trade is captured adequately in national development policies and programmes for the purpose of economic growth and employment creation.
She said the ministry has taken a lead role in the process of trade policy strategies by aligning its trade policies to the Programme for Accelerated Growth and Employment (PAGE) 2012, the national medium term development plan.
She also said ECOWAS-TNCBP has become a strong partner of the Government of The Gambia in efforts to meet the challenges of regional integration through trade development.
For his part, Dr A. Metitovi Folli, representing the coordinator of ECOWAS-TNCB project, said the project is part of an ongoing process and refers to the strengthening of institutional capacity, awareness workshop, development of a register of trade, business trainers and training programmes.
He noted that the workshop is designed to toughen up negotiators so that the results gotten in trade negotiations contribute to the economic development of Ecowas countries.
"This training will provide an opportunity to coordinate the capacity building project to get to know the human resources available to reflect on and outline strategies for international trade negations," he said.
Read Other Articles In Article (Archive)