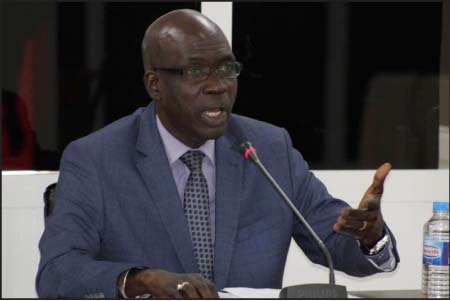 President Adama Barrow's chief of protocol officer, who testified before the TRRC on Monday named about 11 women who he said are said to be alleged sex partners of former President Yahya Jammeh. Two among the women, he said, were married, 8 were female soldiers and some protocol officers.

One of Mr Jammeh's one-time longest serving Chief of Protocol himself, Alhagie Ousman Ceesay said his role was to manage the president's dairy at the time, facilitate meetings, coordinating his overseas travelling and other assignments.
Ceesay recalled that in 2015, Jammeh changed his life style because he sometimes drew a program and arrange visitors, but sometimes visitors will be at the meeting room and he will never show-up.
In September, the Barrow government rejected a finding of its established Commission of Inquiry that implicated Mr Ceesay of being a probable cause of aiding and abetting Mr. Jammeh and his wife Zineb Jammeh in the illegal appropriation of public funds.
In a 93-page report it produced based on the findings and recommendations from the 1, 600-page report of the Commission, the government however accepted that Mr. Ceesay, who continues to be the chief of protocol of President Adama Barrow, conducted several financial transactions including the receipt and collection of monies on behalf of former President Jammeh and his wife on their instructions.
"Jammeh used to be so aggressive on his orderlies and protocol officers. Sometimes he will insult us very harshly and sometimes in the morning, the orderlies will explain to me that Jammeh will spray them with mosquito spray, beat and insult them, if he founds anyone sleeping," Mr Ceesay told the TRRC.
Continuing on whether he knew of a group of protocol officers who were working with Jammeh, he confirmed that and said majority of them were women, saying some them were just a cover up and he needed more on them; adding that after work, some of the girls will stay there with Jammeh.
He named about 11 girls, who he said were having sexual affair with Jammeh on the protected victim sheet, which was provided to him. He said two were married, 8 were female soldiers and some other people.
He indicated that Djimbeh Jammeh, a protocol officer to Jammeh was among those who used to take girls to him. "At Kanilai, different women used to be with Jammeh for his pleasure. They used to brew 'attaya' at night and take it to him by their own."
On whether he knew why the then first lady Zenab Jammeh used to travel constantly, he testified that there were rumours that Jammeh want to keep her away so that he can be free with his girls.
Ceesay stated that when Jammeh lost the 2016 presidential elections, he tried so hard to facilitate for the first lady to convince Jammeh not to change his mind; but the first lady said she is not into politics.
Read Other Articles In Article (Archive)