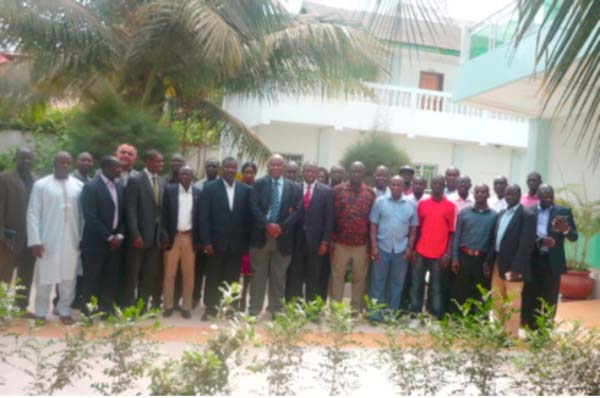 A two-day national seminar for club licensing system for all league division one clubs organised by the Gambia Football Federation in collaboration with CAF yesterday Monday 22 February kicked off at the Paradise Suites Hotel.
Lamin Kabba Bajo, president of the Gambia Football Federation, in his opening statement, said the importance of the seminar could not be over-emphasized hence thanked CAF for accepting their request to have the seminar conducted in the Gambia.
"We are all aware of the importance of meeting the regulations regarding the CAF club licence system, which is becoming a major requirement," Mr Bajo added, pointing out that CAF is running out of patience with member federations and associations and by extension clubs to fully implement the system.
In a very short period, he went on, it will be mandatory for all clubs participating in CAF club competitions to fully comply with the regulation thus the urgency to have the seminar.
"GFF places utmost importance on training and capacity building and other aspects of the development of the game," the GFF president also said.
Mr Bajo called on club representatives to ensure the seminar is not just a get-together. He also further called on them to share the knowledge with their respective clubs.
"The management of your clubs, players, supporters and sympathizers will not forgive you if you leave this hall and throw away the knowledge gained here," he told them, saying the programme has a lot of benefits for clubs as it will help them better structure, organise and effectively and efficiently administer their day-to-day activities, which could yield positive results in the form of financial benefits for them.
In concluding his statement, he reassured all of GFF unwavering stance to ensure that what is available at hand in terms of knowledge and resources will continue to be invested.
Marcel Mendy, Executive Director of National Sports Council, said the areas to be addressed during the seminar are critical and therefore urged participants to take the seminar seriously.
He also urged them to go back to their respective clubs to chance for the better after the conclusion of the seminar.
He said they wanted to see the respective national teams competing in international competition and winning, adding that government has invested a lot in sport and it was time the nation started seeing the benefits.
Dominic Oneya, one of the instructors, in his remarks, said they would bring out their experiences during the course of the seminar.
He also called on participants to also bring their experiences to them (the instructors).
Abass Bah, General Secretary of GFF, chaired the opening ceremony.    
GFF Club Licensing Manager Victoria Roberts is conducting the seminar together with a group of 3 CAF Club Licensing Instructors in the person of Mr Paul Bassey (Nigeria) on administrative, legal and financial criteria instructions; Mr Dominic Oneya (Nigeria) on infrastructure criteria instructions, and Mr Francis Akenteng (Ghana) on sporting criteria instructions.
Read Other Articles In Article (Archive)