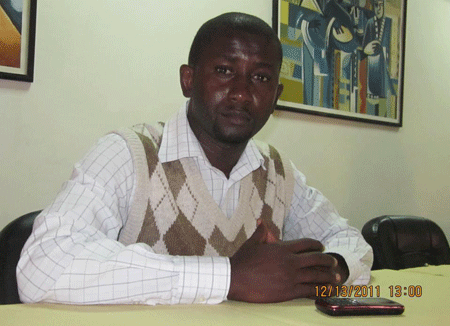 Lamin Njie, deputy editor-in-chief of The Daily News newspaper, is the latest journalist to be remanded in custody at the State Central Prison Mile 2 within a week for alleged contempt of court, this paper has reliably gathered.
This followed an arrest warrant issued by Justice Emmanuel Nkea of the Special Criminal Court in Banjul over an article he (Njie) authored in The Daily News in the case of four former senior officials of the Gambia Revenue Authority (GRA).
Njie, who is also the second assistant secretary general of the Gambia Press Union, GPU, was remanded Friday after he was summoned to report to the High Court in Banjul.
In the said article captioned, "High Court Turns Down Bail Request for GRA 4", and published in its Monday 18th June edition, Njie reported that the High Court "refused to overturn the decision" of the Banjul Magistrates' Court to grant bail to the former top GRA officials.
Though the Special Criminal Court and the High Court respectively denied bail to two senior officials of the GRA, namely Bakary Sanyang, former commissioner general and Musukebba Corr, former commissioner of domestic tax, both rulings were delivered after the said publication.
Njie's detention followed that of Addulhamid Adiamoh, editor-in-chief of Today newspaper, also in custody at the remand wing of the Mile 2 prison, and whose arrest was earlier ordered last Wednesday  by the Banjul Magistrates' Court.
Adiamoh's arrest warrant came after a complaint made before the court by Lawyer Badou S.M. Conteh that somebody "used" Today newspaper, in an article carried in the Tuesday 19th June edition, to personally attack him as defence counsel in a case before the court.
Read Other Articles In Article (Archive)