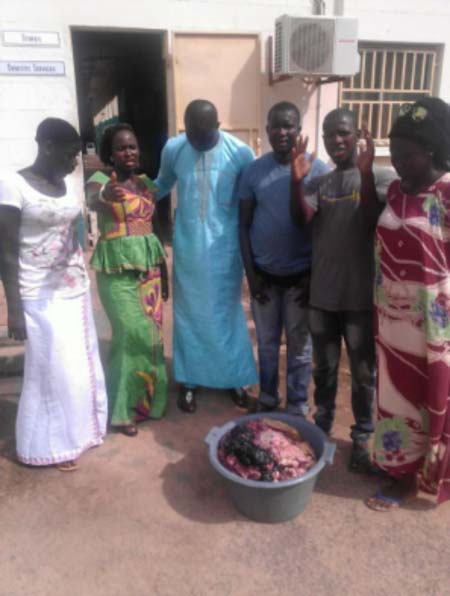 The Banjul Youth Committee (BYC) has given 36 kilos of meat to the Edward Francis Small Teaching (EFSTH) in celebration of the Eidul Adha known as Tobaski.
The event took place at the hospital premises on Tobaski day.
The meat was collected from the community in Banjul, and later given out to the EFSTH to serve as food for the patients in the hospital.
According to the BYC, their target was to collect more meat and give it to both the hospital and the main central prison.
In his handing-over statement, Modou Lamin Bah, BYC chairman, said the activity was complementing government's effort towards providing food at the EFSTH.
He said as Banjulians, they deemed it necessary as young people to feel the ownership of the hospital, because it is Banjul.
"We are the parent body of all youths in Banjul; so we should take the lead in supporting the hospital for other youths to emulate. We promise to be doing more in playing our part in one way or the other to help the hospital."
He also thanked the Mayor of Banjul, Abdoulie Bah, for providing transportation for the exercise.
Receiving the meat on behalf of the hospital, Adama Mbye, Stores and Operations Manager, expressed gratitude, and called it "a good initiative."
Mr Mbye said this was the first of its kind, for the youth committee in Banjul, feeling ownership, to come forward to donate to the EFSTH.
"This will help other young people to emulate such kind gestures from you. I am urging other youths to take ownership and emulate this kind of initiative."
He said the government spends a lot of money on food for the EFSTH, and such a gesture would help to complement the government's efforts.
He further encouraged people to come on board in helping the needy at the hospital.
"This donation will really help us a lot as the hospital consumes a lot of kilos of meats per week, so this will help a long way in providing food for the patients."
He highlighted the importance of donating daily consumables such as needle syringes, which he said is highly needed by the hospital and are very expensive.
Read Other Articles In Article (Archive)