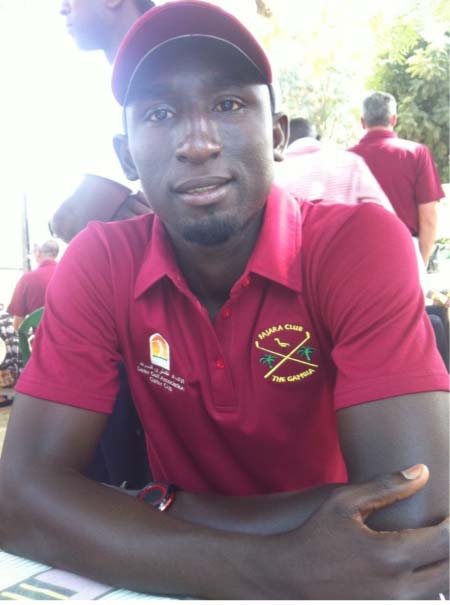 Fa Kebba Drammeh and younger brother Nfansu Drammeh emerged winners in the Professionals and Caddies Independence golf tournament respectively while Ebrima Jawara came out as winner of the Amateurs category.
Organised by the Gambia Golf Association (GGA) and played at the Fajara Golf Course on 17 February 2014, the tournament was sponsored by GreenTech Environmental Solutions/Anthony Tabbal, Lady Njaimeh Jawara, Gambia Golf Association, Ebrima Jawara and Fa Kebba Drammeh.
Fa Kebba Drammeh emerged winner in the professional category with a medal score of 68. He received a cash prize of D2,000.
Dodou Kassama took second position in the professional category with medal score of 71. He received a cash prize of D1,200.
Yusupha Tamba finished third in the professional category with a medal score of 72. He received a cash prize of D800.
Nfansu Drammeh emerged as winner in the caddies category and therefore received a club bag with set of clubs, a book published by the President and a rule book of golf.
Ebrima Jarju took second position in the caddies. He went home with a patter and a rule book of golf.
Edrisa Jammeh occupied third position and therefore went home with a golf shirt and a rule book of golf.
All other caddies that participated in the tournament each went home with a rule book of golf.
Ebrima emerged as winner in the Amateurs while Anthony Tabbal took second position.
Baboucarr Senghore of GRTS, whose birthday was on 17 February, was surprised by the GGA President with a special birthday card, rule book of golf and honorary life membership presented to him by Lady Njameh Jawara.
Field workers at the gold course were also surprised with an undisclosed cash amount.
Speaking to reporters shortly after the event, Ebrima Jawara, President of Gambia Golf Association (GGA), described the tournament as wonderful, adding that they had caddies, amateurs and professionals (all GGA-registered members) playing.
There was fair on the field and discipline was also high, he said, adding that they have made them proud. "This is what our job is really," he added.
"Let us get all the stakeholders and also understand the game," he noted, saying the caddies now understand what their role is and what they are also entitled to.
"There was confusion in the past but I am glad to say that GGA is ironing out all those differences and making people understand what the game of golf is through dialogue and communication and the result is here today," he pointed out, saying: "We have seen the caddies; they are all happy."
The motive behind the tournament primarily is to celebrate our Independence, he noted, saying they are also striving to have the tournament once every month.
"This is a tournament for February; we will also try and get a tournament for March," he said further, adding that he had a meeting with the caddies last week and decided to organise a tournament for them because 'it's been over three years since they had a tournament'.
Organising the tournament for them was to motivate them, make them feel as part of the family, he went on, saying: "Golf is our sport, so it's up to us to take it further and today its members of the GGA who personally put their money to sponsor this tournament. 
"We didn't go to any big company, we didn't need a lot of money to play golf, what is important is to enjoy it and also play fair and be fair to your fellow player. We didn't hear about a million dalasi prize today but everybody is happy."
He assured caddies of their continual support.
In conclusion, Mr Jawara thanked the President of the Republic of The Gambia, who he said is chief patron of all sports in the country, especially golf.
He also thanked all sponsors, brown sweepers and field workers. 
Read Other Articles In Article (Archive)