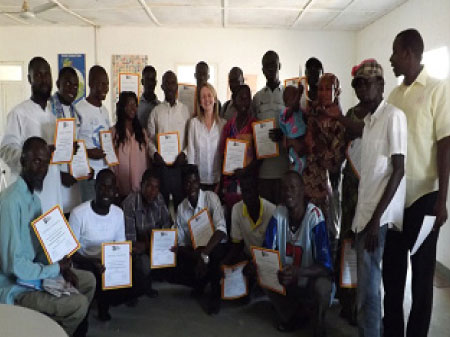 Two senior British teachers, namely Natalie Carson assistant Head Teacher and Nicola Jemirifo Science Coordinator at the Derwentwater Primary School in London, UK, recently ended a two-day lesson planning training for 44 teachers, at Jersey Technical Junior and Senior Secondary School in Sohm.
The training held in Region Two of the West Coast Region was made possible through a British NGO, called (Sohm Schools Support).
Speaking to this reporter at the end of the two-day training, the Principal of Jersey Technical Junior and Senior Secondary School, Mr. Ismaila Sambou thanked the two British teachers for their contribution towards the development of the school, especially in lesson planning.
On each day, the two teachers taught a class of pupils a lesson in letter writing and they were observed doing by twenty teachers from each school. The two teachers: Miss Carson and Miss Jemirifo then explained to the teachers how they had prepared the techniques used in their child-centered teachings, Sambou said.
According to Mr. Sambou, the British teachers then observed and assisted his teachers in applying these techniques and planning how to teach a lesson in their own subjects.
He noted that all teachers who attended the training were presented with a certificate of attendance, together with resource pack to help them in their future lesson planning.
Mr. Gibril Bojang, the Headmaster of Sohm Lower Basic School said "We are delighted that Derwentwater is twinned with his school, parents, students and teachers."
Miss Carson said "they were welcomed so warmly by the people of Sohm and would want to thank them for that hospitality."
She said they will soon fly back to the UK with so many fond memories of their short stay in The Gambia and promised to share their experiences with their young pupils upon their return.
Sandra Walker of Sohm Schools Support, NGO said: "Many British nationals have worked hard to help bring resources to the schools in Sohm."
Read Other Articles In Article (Archive)